Our Starlight Circle regular givers are vital to the work we do
Mary Potter Hospice Foundation is a charity that relies on the support of people like you, so we can continue to provide free care to people with life-limiting illnesses and their families.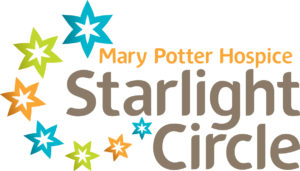 People who give to us regularly every month are part of our valued Starlight Circle programme. Knowing we are getting money each month gives us the confidence that we have a regular income coming in to support our work.
In order to sign up these vital donors we operate a door to door fundraising programme. This method of fundraising is known as face to face. At present, we are using the reputable fundraising company APPCO Group go door to door for us in the Wellington community.
APPCO Group is a member of the Public Fundraising Regulatory Association (PFRA) of New Zealand. Members of PFRA must work within a strict regulatory framework. The PFRA works with charities and service providers to ensure quality, integrity and transparency in face to face fundraising by creating an atmosphere of public confidence and regulatory satisfaction. For more information please visit the PFRA website.
When members of the public sign up to join the Starlight Circle with our face to face fundraisers they provide personal information and bank details to allow automatic monthly donations.  All this information is kept strictly confidential.
How to identify our fundraisers
Legitimate Mary Potter Hospice face to face fundraisers will:
be wearing branded bibs with the Mary Potter Hospice logo on them.
be displaying an APPCO Group identification badge with their name, photo and identification number
never ask for, or accept, a cash donation
be working from an iPad and carrying Mary Potter Hospice's Starlight Circle literature with them.
Where are our Fundraisers this week?
Starting Monday 16 October, our fundraisers will be visiting homes in:
Grenada Village
Woodridge
Newlands
Johnsonville
Churton Park
Paparangi
Broadmeadows
Ngauranga
Khandallah
Ngaio
Crofton Downs
Wadestown
Wilton
Northland
Kelburn
Highbury
Karori
Paraparaumu
If you have questions or feedback about our fundraisers please contact our Donations Administrator on 0800 627 976 (MARYPOTTER) or email starlightcircle@marypotter.org.nz
This is the logo for our fundraising partner APPCO Group.