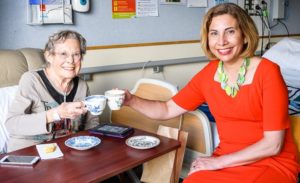 As a GP, Dr English is very familiar with the work of Mary Potter Hospice. It was a delight to welcome her to the Hospice to meet patients, volunteers and staff and enjoy a Hospice Cuppa. She said she receives a number of invitations to events, but can't attend them all as "my patients must come first". However, when she received an invitation to support Mary Potter Hospice she was delighted to help out.
Running a Hospice Cuppa is a great way to have a good time and support Mary Potter Hospice. It is part of the Hospice's annual appeal events and helps raise funds to keep Hospice services free for Wellingtonians who need us. If anyone wants to support the Hospice by holding their own cuppa, we provide posters, balloons, tea kindly donated by Dilmah and coffee donated by Flight Coffee, and donation buckets.
To register contact: Brooke.Singer@marypotter.org.nz, phone 04 381 0465, or register at www.hospicecuppa.co.nz
Each year Mary Potter Hospice provides our quality compassionate care to more than 850 patients and their family and whānau. We put the patient and their family at the very heart of our service, encircling them with care and compassion, so they can treasure every moment.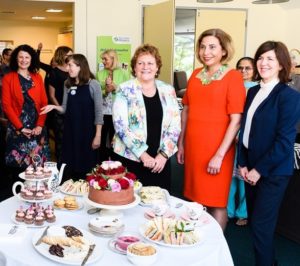 Where donations go:
• In the last 12 months our carers made over 13,000 visits and phone calls to our patients and their loved ones to support them to stay in the comfort of their own home
• We spent $21 every day on oxygen for patients who struggle with breathlessness
• To keep our patients comfortable and painfree, each day we spent $89 on prescription charges
• We welcomed 511 patients to our inpatient unit to receive our holistic emotional, spiritual, social and physical care
• Amount we need to raise each year: more than $5 million
• Amount we charge our patients for their care: Nothing – our service is totally free-of-charge