The care we deliver is for the whole person.
Our approach is to draw on the experience and expertise of our staff and volunteers to provide holistic, 'whole person' care. We aim to meet the emotional, spiritual, social and physical needs of our patients and their families or whānau. We wrap specialist palliative care, grief support and care planning around our patients and their families or whānau in their communities, their own homes or our In-Patient Unit.
Mary Potter Hospice has three community palliative care teams based in Wellington, Paraparaumu and Porirua to provide holistic care and support. On any one day, we have 260 to 280 people in our service.  We also have an 18 bed specialist In-Patient Unit in Newtown.
As a professional organisation firmly based in the community of the wider Wellington region, we work alongside our health partners to make a difference in the communities we serve, affirming life, accepting death and providing relief for patients and their families or whānau.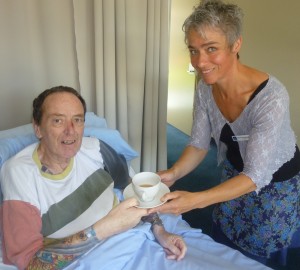 The team at Mary Potter Hospice aims to improve quality of life through expert management of the distressing symptoms of terminal illness. A large team of highly qualified doctors, nurses, counsellors and therapists work closely with patients and their families.  The Hospice also employs quality improvement, education and research staff. Our multidisciplinary approach ensures that every aspect of an individual and their illness is managed, and the individual and their family maintain control over the services they choose to use.
The Hospice's focus is the individual, not their illness
The work of the Hospice is a partnership, not only with individuals and their families, but also with community professionals such as GPs and district nurses. The Hospice plays a supportive role whilst a person remains at home.