Our nursing team takes a holistic or 'whole person' approach to care.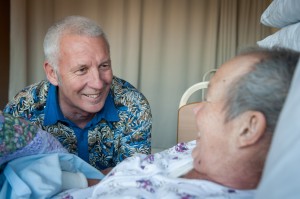 They acknowledges the physical, emotional, psychological, spiritual, social and cultural uniqueness of each individual.
The nurses support each patient to achieve the best possible quality of life until death. In partnership with other Hospice teams, this support is extended to families, whānau and carers to help them cope during the patient's illness, and with their own bereavement.
A very ill and frightened lady told us she has thought the Hospice was just a place where people come to die – she later said that it was like being in another world, one of love and caring.
She found that everyone in the Hospice, not just the medical and nursing staff, was full of warmth, support, caring, love and generosity.
"Mary Potter Hospice is a tranquil, humble place, with a very strong mana."
For those who spend time at the Hospice In-Patient Unit in Newtown, the nursing team provides vital support and understanding. Each patient has a primary and secondary nurse, so everyone is given the very best of care and kindness.
We are very proud of the individualised care we give, 24 hours a day, seven days a week.