Manawataki | Cadence of Youth
June 18th, 2019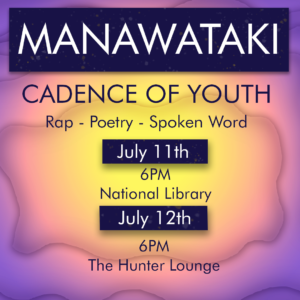 Matariki, the Māori new year. A time for remembering the dead, celebrating new life and planting new crops. On Thursday 11 and Friday 12 of July, the period of Matariki will be coming to an end and a new seed will be blooming. Manawataki is a two-night creative showcase of poetry, spoken word, and rap.
The showcase encapsulates the kaupapa of loss, grief, and compassion. Throughout the evening, rangatahi will reflect on these themes and speak on their own experiences. Over these two days, the Manawataki event will be held at the National Library and The Hunter Lounge respectively.
Secure your seats for the first evening at the National Library, Thursday 11 July 6pm, here.
This event is brought to you in association with Mary Potter Hospice and the SaySo Project.