Supporting vital hospice services through grants
May 22nd, 2020

It was not until Sarah's  father became sick that she fully understood the work Mary Potter Hospice does.

Sarah's father and family were cared for by Hospice staff as his illness took hold.

"I remember how brilliant the whole team were in helping our family. My father was cared for in his home, and that is where he died. Mary Potter Hospice made those last few months of his life so much better for him and for us."

Following her father's death Sarah spotted a vacancy at the Hospice working in the fundraising and marketing team. She applied and got the job.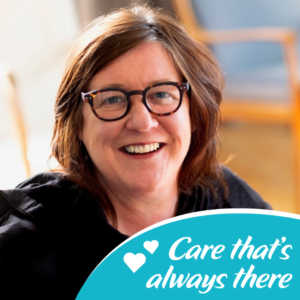 "I really wanted to be part of the organisation that had given so much to our family."
She now works applying for funds which help pay for the work the Hospice does throughout the community.
"Much of my day is spent writing – which I love. I spend time really crafting a good application every time we apply for a new fund, so we are considered."
Some trusts and foundations fund large projects at the hospice, and others support smaller one-off needs – and everything helps. In a regular year various trusts and foundations generously give upwards of $400,000 to the Hospice.
However, in 2020 it is expected that donations will be a significantly lower due to Covid-19.
"Because many trusts have their money in investments, some have put a hold on donating until the economic situation settles," Sarah says.
As we went into lockdown one organisation who had pledged a large sum to the Hospice had to withdraw it due to the economic uncertainty.
"That was a bit of a sign. The grants landscape has changed very dramatically. We know that people still want to give, so it is just trying to remind people that we are here, and we would love help."
Despite the current challenges, Sarah says she knows there will be continued support for the Hospice.
"People love Mary Potter. So many people have been touched by the care. Most people have a connection to Mary Potter, whether it is through a grandparent, a spouse, a friend or a co-worker. Whenever people talk to me, they speak so warmly about the Hospice. They trust us – and know that we are always here."
While it will be challenging to find grants in the coming months, Sarah says she doesn't want to be doing anything other than making sure the Hospice is around for many more families in the future.
"The Hospice touches people from all walks of life. It does an amazing job of caring for people and creating the best possible end of life."
---
Together, we can continue to care.
We are very grateful to you for your continued support for our service, our patients and our community as we face this time together.
We couldn't do what we do without your support. We put the patient at the heart of our service, encircling them with care and compassion so they can treasure every moment. We are here for you and your family. Please help fund our caring and compassionate work, and make a special gift today.