They turned up and my life completely changed
October 26th, 2023

From being a Satan's Slave and a drug dealer, to a committed dad and a carer for people with intellectual disabilities, Adrian's life has been full of adventures.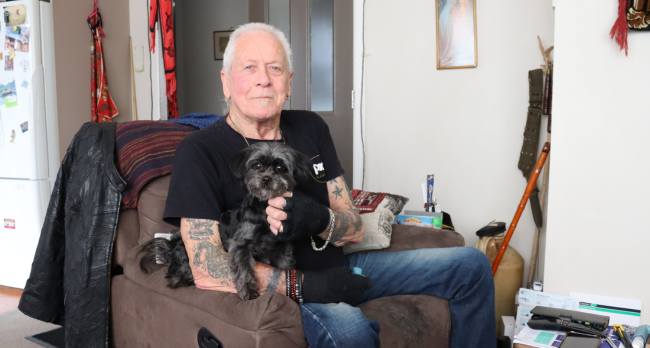 "What a turnaround in life, aye. It's amazing what you can do if you want to get on with it," says Adrian. "I look a hard man, but I'm not. I tried to live like the Waltons once, but it never happened. All I wanted was to get married, have children, and have a nice quiet life and retire."

Adrian's experience with Mary Potter Hospice began soon after he found out he was unwell. He described his first contact with us:

"I was sitting here one day and there was a big bang on the door and all these women came in from the hospice. There were about four of them, all asking me questions. It's brilliant aye.
I was impressed, overwhelmed with what they do. They all worry about you. I couldn't fault them in any way. They're just there, full on mate. I didn't realise that people would be like that. They turned up and my life completely changed"
Adrian keeps us all entertained at the day service, regaling us with tales of his life as a 'jack the lad'. His stories include prison life and being in the Satan's Slaves. We have huge respect for the way he turned his life around, raising his children, working long term for both the City Council and also for 20 years with people with intellectual disabilities.
Adrian says he's been really impressed with what Mary Potter Hospice has been able to do for him, and his fellow day service patients. He connects with all our other patients – of all ages, backgrounds, ethnicity and everything else.
"I go to the day programme at the Hospice and have a nurse who checks on me now and again. They worry about you, and we talk about all sorts. I'm totally impressed with how they take care of you."
You have helped us change Adrian's life. Will you please help all the other patients who need our care?