"This is the hardest that it will ever get for me."
December 5th, 2019

The support of family and friends will help Daniella and Arielle get through the coming weeks and years. Mary Potter Hospice will continue to be part of that support network too.

Their mum, Ly You, died just a few short weeks ago on 8 October, leaving her two daughters and son Tyrelle to the care of their aunt and a loving and supportive family network. They'll live with their Aunty Lane and her four children, in a household of seven children ranging in age from 2 1/2 to 16 years.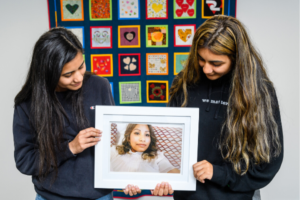 Both young women are delightful. They attend Aotea College and both received awards at the school prizegiving. The older, Daniella, 16, won the Rotary Service Above Self Award and was named Head Girl for 2020. When she went to the stage to get her award she took a photo of her mum with her. Arielle, 15, won awards for attitude and effort.
Daniella describes herself as an 'all arounder' and very social, "but I didn't really tell people about my mum and all the issues we had this year.  I didn't want them seeing me as 'that girl'. But I know that this is the hardest that it will get for me.
"You have to reach your limits before you know what your limits are." Daniella plans to go to University after College, perhaps study for a Bachelor of Commerce degree.
Arielle says she has her mum's personality.  "I'm a bit more quiet.  Mum always looked after us.  We'd go to the movie together, and buy bubble tea.  My family is important to me. Family look after you. They are where you belong. I feel comfortable with my family."
Both have after-school jobs as well as their study. Arielle works as a waitress three days a week and would like to travel one day, maybe be a flight attendant.
They remember fondly the recent family holiday in Levin. "There was no wifi and no service which was great because we made lots of videos with mum, at the beach and the park. Our brother Tyrelle would sometimes sleep with her and have his hand on her to make sure she was still there."
Daniella, Arielle and Tyrelle are the grandchildren of refugees who came from Cambodia in 1984.  Lywas born in 1977 and Aunty Lane nine years later, the first child born in New Zealand.
Chief executive Brent Alderton said that the support and care Mary Potter Hospice provided the family showed the real strength of Hospice.
"In addition to clinical services from nurses and doctors for their mum, we were able to provided lots of support for the family too.
"Our occupational therapists did legacy work, so the family has mementos of Ly. A volunteer biographer wrote Ly's story so her children can know a bit more about their mum. A Hospice social worker helped throughout the year, setting up meetings with lawyers for guardianship, bank accounts, financial matters and much more.
The fundraising team organised a special family weekend in a Wellington apartment.
"We are so aware that behind and alongside every Mary Potter Hospice patient is a group of family, whanau and friends that are affected.  We support them through this really hard time, so they can find their feet again in their own way.  We can't take away the pain, but we can help people feel supported and cared for."