Te Ara o Puanga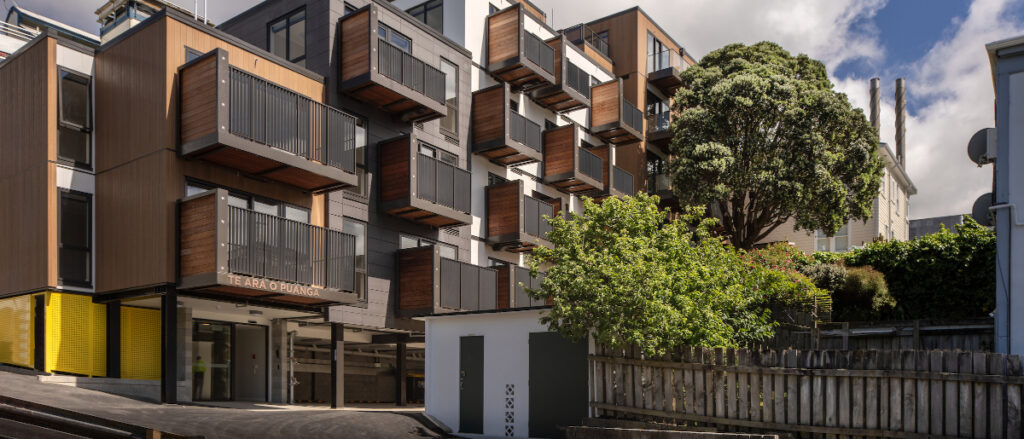 Mary Potter Hospice has built an apartment complex adjacent to the Hospice building in Newtown.
About Te Ara o Puanga
The name Te Ara o Puanga means the pathway of Puanga, which is the star that hails the season of Matariki.

Designed by Archaus architect Huw Parslow, the apartment building is tucked behind the existing Mary Potter Hospice Inpatient Unit facility on a small and steep site. The apartments have been built with sustainable materials whenever possible, and were prefabricated offsite to reduce noise and inconvenience to patients, neighbours and staff.

There are 41 units – including 29 furnished studios, eight one bedroom apartments and four two bedroom apartments. The rental income from the apartments will help to fund Mary Potter Hospice services into the future and will provide a stable and reliable revenue stream for the Hospice.
Support Te Ara o Puanga
A number of generous foundation donors helped fund part of the construction of Te Ara o Puanga. The remainder of the costs are funded by bank loan.
Any support you can give to help reduce this loan means the Hospice benefits from the rental return more quickly. This rental income helps Mary Potter Hospice to offer all of our valuable services, free of charge for people who need us regardless of background, wealth, ethnicity and religion.

If you wish to help the Hospice into the future, please contact our donations team by emailing donations@marypotter.org.nz
With grateful thanks
It is thanks to the foresight and generosity of some amazing Hospice supporters that these apartments have come about. Without their backing, the Hospice would never have had the courage and assurance to proceed with such a large venture.

Our grateful thanks to the following foundation donors:
John Allard
Archaus Ltd
BNI Wellington and Kāpiti
Douglas Catley MNZM
Chapman Tripp
Kaye and Maurice Clark
Colliers
Brian Drake
Galt Family
Mark & Wendy McGuiness
McKee Fehl Constructors Ltd
Navigation Financial Partners
Aeneas (Mike) O'Sullivan and Family
Tai Shan Foundation
Brian Tyler
Jennie Vowles
Our thanks also to our many other generous supporters.
How the Mary Potter Apartments are managed
Mary Potter Apartments Ltd is a separate entity wholly owned by Mary Potter Hospice. Members of the Board are are Devon Diggle, Martin Lenart, Melissa McGhie and Vesna Wells.
Mary Potter Apartments Ltd (Registered Donee Organisation)
Charities Commission number: CC55722
IRD number: 125-221-432

Te Ara o Puanga is proudly managed by Leaders. If you are interested in renting an apartment please visit the Leaders website.