Local fishing community reel in $25,000 for Hospice
March 18th, 2022

This year Kāpiti Underwater Club was unable to host the Annual North Island Spearfishing Competition and Fish Auction due to COVID-19 restrictions. This did not faze the Club and the organising committee stepped up a gear and started raising funds for Mary Potter Hospice in lieu of not being able to run the competition and do what they would normally do (and have done so since 2002).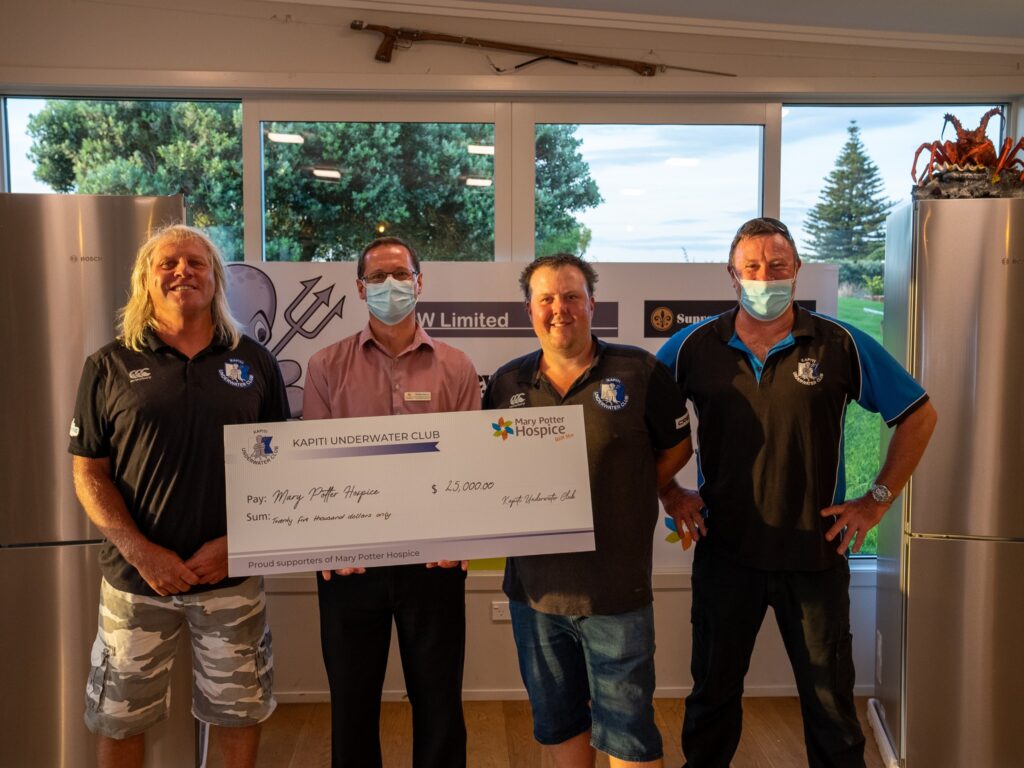 The Annual Spearfishing Competition is a well-run event that the local fishing community look forward to every year. The fish that are caught are weighed, measured and then with approval of MAF are auctioned to the public and all the proceeds go to Mary Potter Hospice.
"I am proud to have been associated with this event for nearly 20 years and have seen the event grow and grow and have watched the subsequent donation to Mary Potter rise from a paltry $242 in 2002 until last year when an incredible $11,251.50 was raised," says Doug Palmer from Harcourts Paraparaumu, who coordinates the fish auction.
This year with the help of several major sponsors the committee raised $22,000 in cash and secured several prizes to be auctioned off including two brand new Bosch stainless steel fridges. "This was a massive effort," says Club President Daniel Huxford (Huxy). "The Kāpiti Underwater Club Committee were simply magnificent in promoting and organising this event and raising the funds for the Hospice."
Huxy and the Committee are passionate about raising funds for Mary Potter and when this year's event was reluctantly cancelled they all were extremely disappointed. With the help of Mal Bird (a new committee member) the committee reach out got were able to obtain sponsorship from CGW Ltd, Supreme Balustrades, Tana Ltd, Steel it, Totalogic Solutions, Timms Flooring, Blackwell Plumbing & Gas, Nebulite Timber & Doors, Able Mason Ltd, and Speedy Signs.
The oversized donation cheque was presented to Phillip Harris to receive this on behalf of Mary Potter Hospice at the Kāpiti Underwater Club clubrooms in front of a selected audience and live streamed on their Facebook page.
The Committee are looking forward to running the event next year and making a bigger donation to the Hospice.