Care that's always there: Olivia knows a picture paints a thousand words
April 8th, 2020

Olivia leads the arts therapy programme for young people offered by Mary Potter Hospice. The recently developed service allows children whose relatives are in the care of the Hospice to explore their feelings by being creative.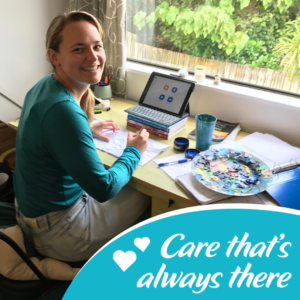 Olivia facilitates the sessions, guiding the children through their feelings and allowing them a therapeutic space to express themselves using different creative mediums. She is part of the multi-disciplinary team who help families in their journey with the Hospice.
When the lockdown was announced, Olivia and the team at Te Whare Rānui – the Hospice's Porirua base – swung into action. Knowing it would be weeks before the children would be able to have a face-to-face session, packages with art supplies were put together. Crayons were collected, paint brushes were purchased, clay was divided and little play creatures were packaged up before being sent to families across Wellington, Porirua and Kāpiti.
The team had tried to cater to each families' individual situation to try and make the time in lockdown as easy as possible."It was rushed to set everyone up and to figure out what we were going to do," Olivia says.
Instead of in person, all sessions are now done via Skype or Zoom. And instead of Olivia meeting the children at their school or at Te Whare Rānui, the children are in their home.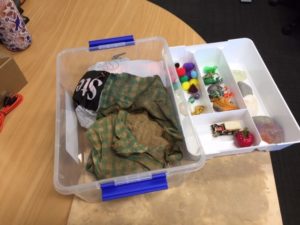 "That has been really lovely to see. We usually meet in a neutral space or in my space – but this is their own space. For a few of them anxiety has been really high. Thinking about safe spaces has been a theme and getting them to bring things to the sessions that soothes and comforts them."
Olivia says many of the children are showing amazing resilience during this time. The confusion of being at home – often with a sick relative – was not easy.
"For many things are uncomfortable right now and people are naturally anxious. I had one girl explain to me that what is happening at the moment is not new to her as she is always in the unknown – which is hard to hear."
Despite the challenges, Olivia says there have been some beautiful moments. Being able to support parents was a privilege. One family were so thankful they gifted a teddy, which sits proudly in a team member's window.
"We have had some really lovely feedback from parents about how their children are more relaxed following a session."
"It is about gifting the patient or parent some peace and for them to know that their children are being looked after. That is what palliative care is all about."
---
Together, we can continue to care.
We are very grateful to you for your continued support for our service, our patients and our community as we face this unprecedented time together.
We couldn't do what we do without your support. We put the patient at the heart of our service, encircling them with care and compassion so they can treasure every moment. We are here for you and your family. Please help fund our caring and compassionate work, and make a special gift today.