Congratulations to Mary Potter Hospice's Annual Award Winners
October 23rd, 2020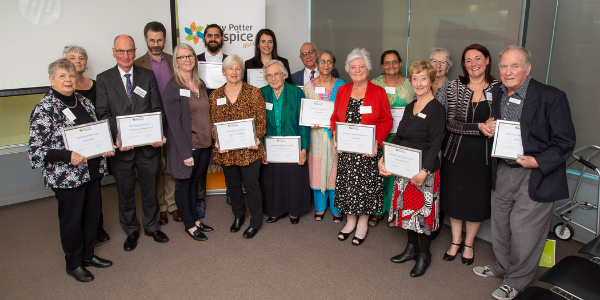 The Annual Awards were presented at our Annual Celebration to various Mary Potter Hospice volunteers, staff and supporters to say thank you to those special people and groups who support the vital work of the Hospice. They have been selected – with great difficulty – from the many nominations put forward by our Hospice staff.
Volunteer Awards

Erina Harding
Gaye Carroll
Manju Vasan
Alwyn Black
Amanda Bava
Shardul Bulbuley
Our six Volunteer Floral Artists create beautiful floral arrangements from the flowers and greenery sent to them from two generous businesses, Susan's Flowers, and Next Stop Earth. These volunteers have made a major contribution, some of them over many years. Shardul, the newest team member has been a volunteer for less than a year. Their work and commitment is a visible expression of the life affirming values of Mary Potter Hospice, seen as soon as you walk in the door.
Caroline O'Reilly
Caroline and the Vinnies Resew team have worked with Mary Potter Hospice to create a bespoke design for Excellent Gowns for Hospice patients. This successful Hospice and community initiative has involved designing and sewing clothing for the Hospice's bariatric patients.
Partner Awards
Ninness Funeral Home, Porirua
During lockdown, the care that Ninness Funeral Home and the extra mile they went for all whānau was incredible. In particular, their understanding and respect for cultural diversity during a difficult time for all New Zealanders and their whānau. They maintained their professionalism throughout, showing compassion for the unique circumstances that we all found ourselves in.
As some whānau waited for the appropriate time to uplift their loved one for burial as per their customs, Ninness waived their fees and arranged regular viewing times (sometimes daily) at no extra cost.
Hospice New Zealand
Hospice New Zealand has done an incredible job over many years, but particularly this year, supporting Hospices across the country. As an organisation they have demonstrated outstanding leadership, matched only by the patience required to manage the interests and personalities of around 30 independent hospices.
Fundraising Awards
Thomas George Macarthy Trust
This Trust has been a great friend to Mary Potter Hospice since 1984 – supporting the people we care for with over $3 million in that time. TG Macarthy was committed to building strong, inclusive and supportive communities and his extraordinary Trust has done just this.
They have provided generous ongoing support for Mary Potter's everyday operational costs so we can provide high quality community care. They have also gifted two substantial grants for significant capital development work. In 1988/89 they gave $500,000 towards getting the Hospice built in Newtown.
And this year they gave $275,000 towards building our renovated community hub in Porirua, Te Whare Rānui, making this important project possible.
Wellington Airport Aviation Security Service
The Aviation Security Service has supported Mary Potter Hospice for 16 years as a "charity of choice" to receive an annual donation.
The funds are collected during the year through the International Departure Lounge donations box where travellers can donate leftover coins and notes. Once a year at Christmas-time, the Aviation Security Service, who look after the donations box, makes a distribution of funds to various Wellington charities. We're delighted they choose to include the Hospice. The total received to date is $13,590.
Staff Quality Award
Catherine Hart
Catherine has been on the Hospice team for 6 years and has always contributed significantly at a very high standard. The essence and commitment Catherine brings to every aspect of her work is crucial to the Hospice maintaining high standards and continuous quality improvements.
Catherine fosters a diligent approach while working in a highly complex role as EA and always delivers. This year, during the Covid crisis, Catherine's contribution was absolutely vital to keeping our Hospice services running.
Long Service Award
Each year we will acknowledge volunteers who achieve the 25 years' service mark, and this year there are 9 who we would like to acknowledge.
Julia Hall (25+ year Volunteer)
Gloria Biggs (25+ year Volunteer)
Jim and Hilary Szymkowiak (25+ year Volunteer)
Rosemary and Warren Stevenson (25+ year Volunteer)
Geoff Richards (25+ year Volunteer)
Raylee Hill (25+ year Volunteer)
Congratulations to all awardees and thank you for helping us make Hospice happen!