A friendly face and voice behind the phone
June 16th, 2023

When Ashwin volunteers at the Inpatient Unit in Newtown, he enjoys the friendly and warm environment.

"The staff, including the support staff like the cleaners, are so friendly. We always share a warm hello and goodbye."

A telecommunications engineering professional, Ashwin started volunteering for the Hospice in 2018, helping with the supper service and reception duties.

At the time, Ashwin was between jobs and was inspired to volunteer as a way to give back to the Hospice in appreciation of the care that a few of his friends received. 

Almost five years on, you'll still find Ashwin behind the front desk where he volunteers on an evening every two weeks.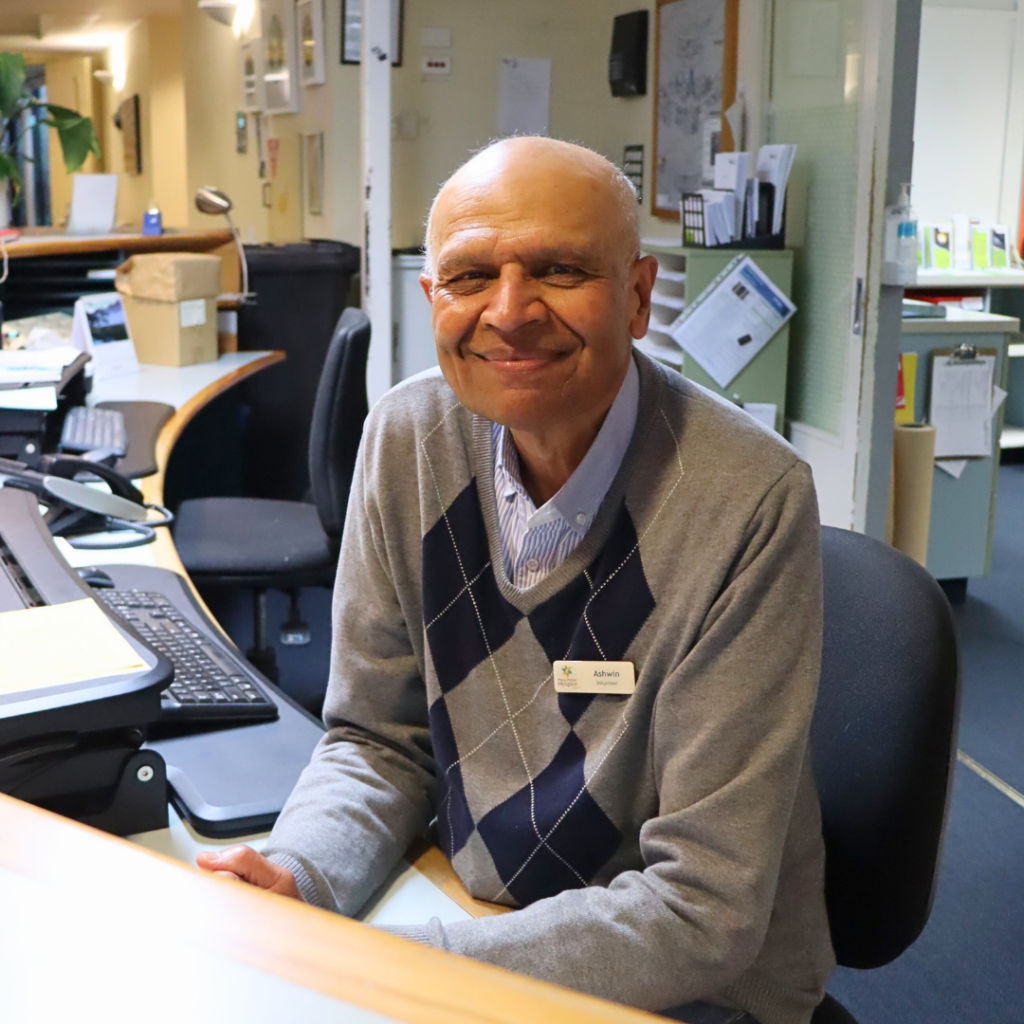 As a volunteer receptionist, Ashwin's role involves answering the Hospice's main line and greeting visitors. "During my shift, my priority is to take the load off the staff so that they can focus on providing their excellent care."

As with any new job, when you begin volunteering it's important to learn the systems and procedures, says Ashwin. "We receive phone calls and questions from visitors about all sorts of things, so you need to be able to put people in touch with someone who can help them as quickly as possible."

"Sometimes there may be a young patient staying at the Unit, or you may have interactions with grieving loved ones which can be sad," says Ashwin. However he feels well supported by Hospice staff who are always there to talk things through or help if needed.

Ashwin is also a representative on the Hospice's Volunteer Advisory Team, who advocate for the best interests of the Hospice's incredible team of over 500 volunteers. He has also been a volunteer representative at a recent Health and Safety meeting to ensure that the voices of volunteers are present across all facets of the Hospice.

"The Hospice does a really great job at making sure that volunteers are valued, and it's a privilege to be one of the representatives. Volunteers are such an integral part of the Hospice team."

Volunteering is a big part of Ashwin's life, although he is very humble about it. As well as volunteering with Mary Potter Hospice, he is also closely involved with the Wellington Indian Association and delivers Meals on Wheels each week.

For Ashwin, the satisfaction he receives from volunteering is simple – it's about being and feeling helpful. "I like to share my time and skills to be helpful for others and make their jobs or lives easier. That's what volunteering is all about for me."

Thank you to our amazing volunteers who work with our patients, families and whānau, keep our shops operating and support our staff behind the scenes. Your time, skills, experience, fundraising and passion supports Mary Potter Hospice to offer our valuable services free of charge.

If you are interested in volunteering for Mary Potter Hospice, we'd love to hear from you! View our current volunteer vacancies here, or email volunteer@marypotter.org.nz with your enquiry.