Manawataki | Cadence of Youth
July 25th, 2019

We're beyond thankful to the talented and passionate rangatahi who privileged us with their accounts of loss, grief, compassion as part of Manawataki | Cadence of Youth earlier this month.

Over 200 guests joined the conversation across the two-night showcase at the National Library of New Zealand and the Hunter Lounge, hosted in collaboration with Mapmo, UNICEF New Zealand and Mary Potter Hospice.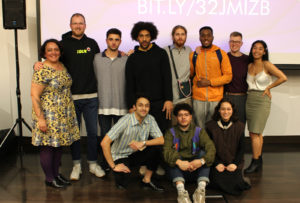 Manawataki was a two-night creative showcase of poetry, spoken word, and rap. The showcase encapsulated the kaupapa of loss, grief, and compassion. Throughout the evening, rangatahi reflected on these themes and spoke about on their own experiences.
"We want to let rangatahi know that they are not alone in these challenging experiences and give them a place to share. The project has been a hugely collaborative process and I have to give credit to the whole working group and organisations who have made this possible." Fin says, a performer from the showcase.
The timing of the inaugural event with the end of Matariki is no coincidence. "Matariki has traditionally been a time for reflecting, remembering, and celebrating those that have passed, and for welcoming the New Year. Knowing this, it seemed to be the perfect time to address the kaupapa of loss, grief, and compassion," Fin explains.
Fin and Vanessa, Day Services Manager from Mary Potter Hospice, have been invited to speak about Manawataki | Cadence of Youth at the Sixth Public Health Palliative Care International Conference in Australia this October. "I have the opportunity to provide a youth voice and present our event and research on an international stage," Fin says.