Annette's story
May 14th, 2020

Things have been quieter without the usual buzz of patients, whānau and staff filling the halls of the Inpatient Unit (IPU) at Mary Potter Hospice. During the lockdown, restrictions were put in place to limit the number of people allowed in the building.

Clinical coordinator for the IPU Annette says that while there have been less staff than usual, the Hospice was still providing care for patients who have been admitted into the IPU.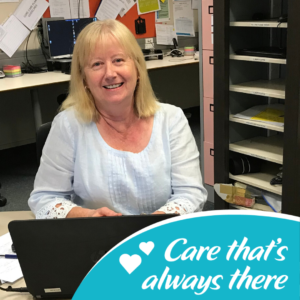 "The number of inpatients has been slightly lower than usual, I'm sure some are choosing to stay at home to be with family. We are fortunate we have a strong presence with our Palliative Care Coordinators and Hospice@Home services in the community to be able to support this."
Annette is responsible for the day to day management, supervision, coordination and support of staff, patients and their families within the IPU.
"Social distancing is unfamiliar to us in this line of work. But we have managed to continue to provide compassionate and quality care."
For patients in the IPU during COVID-19 Levels 4 and 3, it was hard given they were only allowed one visitor.
"It has been understandably extremely difficult for our patients, their whānau and friends having imposed restrictions on visiting at the hospice. We are acutely aware how stressful this is and have attempted to manage this with compassion."
Staff in the unit had followed strict social distancing and were working in smaller teams. Not being able to have the wider Mary Potter Hospice family around during this time was strange, Annette says.
"I miss my colleagues, a large number of whom are working at home."
While there was some uncertainty around what the future may look like, Annette said she took a lot of pride from the way her team have responded during COVID-19.
"I am proud to be part of the team at IPU who never cease to amaze me with the awesome care they provide, even during a pandemic."
Hopefully one day soon the IPU will return back to its energetic atmosphere, Annette says.
"We are also looking forward to the return of our team of treasured volunteers and visits from our "furry friends", Oxford and Charlie the therapy dogs.
---
Together, we can continue to care.
We are very grateful to you for your continued support for our service, our patients and our community as we face this unprecedented time together.
We couldn't do what we do without your support. We put the patient at the heart of our service, encircling them with care and compassion so they can treasure every moment. We are here for you and your family. Please help fund our caring and compassionate work, and make a special gift today.