Care that's always there: Don and Alan's friendship strengthens during lockdown
April 24th, 2020

Life lost its colour for Don when his wife Mary passed away. With his lifelong companion gone, his usual routine disappeared and he feel into a slump.

"I used to take my wife for a drive every afternoon. Once she passed, I found it very difficult to fill that void in."

It was through chatting with a Mary Potter Hospice counsellor that he learnt about the Hospice day unit in Porirua. A chance to connect with others and chat about life seemed like it may help – so Don went along. His life hasn't been quite the same since.

The twice monthly meetings see people in the Hospice's care share lunch, do quizzes, create arts and crafts and chat about where life is at.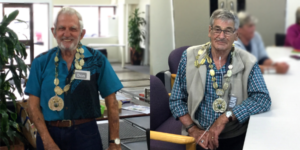 Don had not been going for long when he struck up a friendship with fellow day unit goer Alan. Both men had served in the army, raised families and travelled.
"Alan had my admiration and respect straight away," Don says. "He is very talented at art but also has an amazing resilience in dealing with his health problems. It is quite inspiring."
The pair often like to sit down over a cup of tea and catch up when they are together. However, the lockdown means the day unit is closed – something Don was hoping would change as the country moves down alert levels.
"I can't wait for it to start back up again."
In the meantime, Alan and Don are still keeping in touch. Alan calls Don every week or so to check in.
"Mainly I just call to see how he is," Alan says. "We talk about our family and what we have been doing. It is only short calls; I don't call for hours on end. Just a general catch up – what is happening in the weather, how this virus is going. The good thing is Don seems to be doing well."
Alan says going to the day unit gives him a huge amount of energy. The staff were great and being able to spend time with people was a blessing.
He has also made a habit of calling other people from the unit during the lockdown to see how they were.
"I miss the day unit like hell," he says.
Don agrees – he says he couldn't speak more highly of the team at Mary Potter Hospice.
"They are caring and compassionate. They have my admiration, respect and personal affection."
Both men say the friendship they formed with one and other, along with the other members of the unit, has been special.
Don still misses Mary, but there is a little more colour in his day thanks to his day unit family.
"You make good friends there," Don says. "Some of them pass on and you do miss them. I have enjoyed every friendship I have made."
---
Together, we can continue to care.
We are very grateful to you for your continued support for our service, our patients and our community as we face this unprecedented time together.
We couldn't do what we do without your support. We put the patient at the heart of our service, encircling them with care and compassion so they can treasure every moment. We are here for you and your family. Please help fund our caring and compassionate work, and make a special gift today.