Hazel's story
May 8th, 2020

The restrictions due to COVID-19 have been challenging for all families who are grieving the loss of a loved one.

Mary Potter Hospice's Bereavement Lead Hazel and the Hospice's bereavement teams have been trying to soften the blow of the lockdown by keeping in touch with families.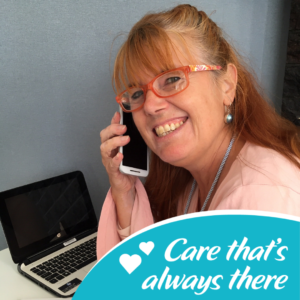 Bereavement teams have social workers and counsellors who assist families and patients in their walk with the Hospice.
When a patient passes away, they continue to offer support to family members for over a year.
COVID-19 has brought with it a range of issues for families who have been caring for their loved ones either at home or in the Inpatient Unit.
It has been particularly difficult for families who have lost loved ones and who have not been able to mourn together.
"Understandably people have been upset because they have not been able to hold funerals. That has caused much distress. It has also been hard for those who could not be with their loved one as they passed away."
While keeping in touch with their dying relative via video calling has helped some families, it is "not the same as holding their hand or giving them a hug".
During the lockdown, every family currently registered with Mary Potter Hospice has received a call to see how they were managing.
"Following on from that, people were also asked whether they would like to have more regular social contact. For those who did, we arranged a social connection call which is a general check-in. It is up to the person how often they would like to be contacted," Hazel says.
The social connection calls have been deeply appreciated by members of the wider Mary Potter Hospice whānau.
"We have had some lovely feedback from people who have enjoyed receiving more regular contact."
While grief can be hard on you, anyone who is struggling during this time should "reach out" and "don't be shy about it", Hazel says.
"There is so much assistance out there. Reach out to family, friends and other social networks.  Grief is very lonely anyway and the lockdown has intensified some of that loneliness. Don't think there is nothing that can help you – there is always something you can find."
---
Together, we can continue to care.
We are very grateful to you for your continued support for our service, our patients and our community as we face this unprecedented time together.
We couldn't do what we do without your support. We put the patient at the heart of our service, encircling them with care and compassion so they can treasure every moment. We are here for you and your family. Please help fund our caring and compassionate work, and make a special gift today.