Shaun helps patients plan for the future
May 1st, 2020

Shaun begins his day with a walk to work. Well, sort of. "It is a psychological walk to work. I walk around the block and then sit down at my desk. At the end of the day I go for a walk again – that way it feels like I am still commuting."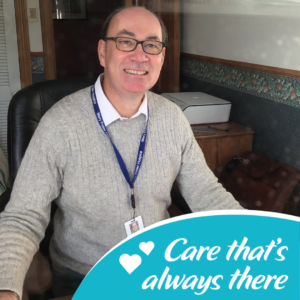 One of the three Mary Potter Hospice Palliative Care Coordinators in Wellington, a specialist community nurse who works in the city area, Shaun has had to adjust to working from home during the current climate. Usually, he and the rest of the wider community outreach team at the Hospice would be meeting with patients and whanau at their homes. The care they provide is clinical, but it is also holistic.
"The future is uncertain for a lot of our patients, so we try and put in place a plan for them. That may be around pain management, but will also include arranging equipment, nursing and care, even organising wills and other legal arrangements. Sometimes it is their family members who need our support."
Being able to give wide-ranging care is a real privilege, Shaun says.
"It is a bit like a Venn Diagram. You have the physical, psychosocial and spiritual elements. They all overlap at some point. A patient is not being looked after for just their symptom management. We will have various conversations about such issues as finances but also about more down to earth things, like who will look after their pets."
Prior to COVID-19, a normal day would usually start at the Hospice's Inpatient Unit in Newtown. The day would be planned and home visits arranged. Shaun says the nurses work closely with the patient's GP and district health nursing team to make sure there is wrap-around care.
"We try to support our other health care professionals. We also work closely with the wider Mary Potter Hospice team, including social workers, counsellors, therapists and palliative care consultants. We often make joint home visits with someone from the wider team."
The COVID-19 restrictions have changed how the nursing team provides care. Consultations are being done over the phone and face-to-face visits only occur if absolutely necessary.
"It is really about maintaining that good contact. Some of our patients' lives have been disrupted in a major way and are socially isolated. Our Telehealth programme is helping to provide care in that area. Also, the Hospice is contactable 24 hours a day. So there is always someone  on call who can help."
While having to adjust a new way of working, Shaun's patients are still receiving the care they need. "It has been a very positive experience for us. We are getting new referrals, and while we can't always see them physically, everyone is very understanding."
Encouraging self-care for the patient is an important aspect of care, and that includes care for Shaun himself. "We all have to look after our emotional health – my walk to and from work helps with that."
---
Together, we can continue to care.
We are very grateful to you for your continued support for our service, our patients and our community as we face this unprecedented time together.
We couldn't do what we do without your support. We put the patient at the heart of our service, encircling them with care and compassion so they can treasure every moment. We are here for you and your family. Please help fund our caring and compassionate work, and make a special gift today.