Care that's always there: Tiumalu is looking forward to giving her clients a hug
April 24th, 2020

Mary Potter Hospice's Pasifika Liaison Tiumalu is looking forward to giving her clients a hug. The lockdown has brought significant challenges for the Pasifika community – not being able to connect in person was one of them.

"We are a very touchy-feely people. It is hard to not be able to provide that kind of comfort during this time."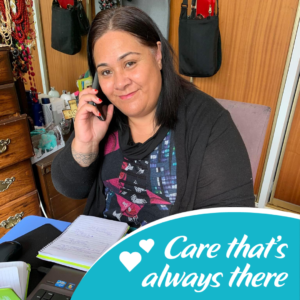 Much of Tiumalu's work usually revolves around supporting Pasifika patients and their families while they are with the Hospice. That can include providing cultural support, helping translate conversations or educating Hospice staff on cultural practices.
"I work quite closely with our nurses, our allied health team, patients and their family members. We try together to work out what their needs are and help get our different services involved or work together with external service providers," she says.
During the lockdown, Tiumalu has continued to connect with clients via phone and video calling. With a family of six at home, she has had to set up a makeshift office in her bedroom.
"While it is good to connect, it has also been hard. For those at the end of life it is a challenge to talk to them over the phone and not be able to provide that physical comfort."
Another stress for the community was the restrictions around funerals. Tiumalu says that the family members of those who have passed away recently have sometimes struggled to not give their loved one a proper 'Pasifika sendoff'.
"Some families have held Zoom services. Every family is doing something different. Not being able to bury a loved one with family around is very hard. It is going to be hard after the lockdown because there is going to be grief on top of grief. People have not been able to acknowledge their loved ones in a culturally appropriate way and they will need to work through that."
Despite those difficulties, families have really appreciated the advice and support from the Hospice during this time.
"Some people have felt quite prepared and reassured which has been good. The hospice team have tried to make them feel like they know what is going on and what will come next. It has been good to give that reassurance."
Being able to reconnect with families once the lockdown is finished will bring lot of joy to the wider community, she says. For Tiumalu, she too is looking forward to meeting with families in person.
"Being able to sit with someone or give them a hug can make a big different. It will be good to provide that comfort once again."
---
Together, we can continue to care.
We are very grateful to you for your continued support for our service, our patients and our community as we face this unprecedented time together.
We couldn't do what we do without your support. We put the patient at the heart of our service, encircling them with care and compassion so they can treasure every moment. We are here for you and your family. Please help fund our caring and compassionate work, and make a special gift today.