Celebrating 20 years of the Camellia Heritage Club 
February 16th, 2021
It is not every day you get invited to have high tea with the Governor General. But for a very special group of Hospice supporters, they got to do just that.
Olinka Ching, Mary Potter Hospice Bequest Coordinator (standing on left) and Des and John (middle) among Camellia Heritage Club members and guests.
The Camellia Heritage Club celebrated twenty years since its establishment by enjoying a Jubilee high tea at Government House earlier this month. Camellia Heritage Club members are very valued supporters who have decided to leave a bequest in their Will to Mary Potter Hospice.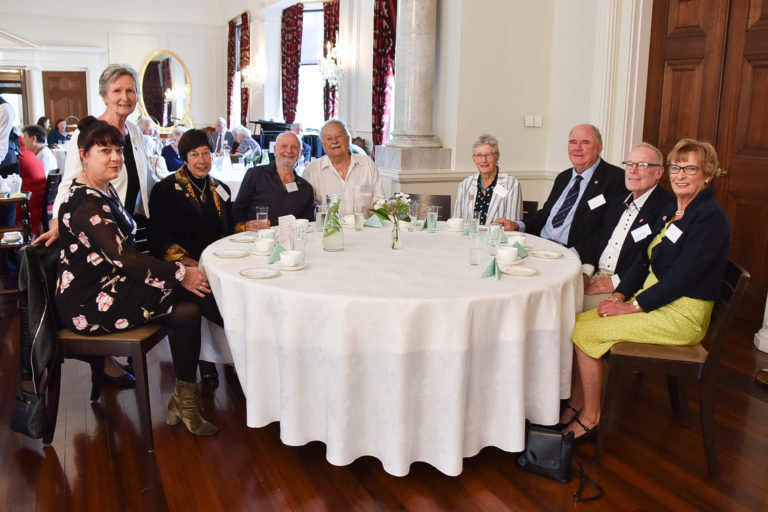 Crimson carpets, fine china and chandeliers were all on display for the 100 or so members of the Club. Long-time supporter of the Hospice John Jolliff said it was a great event.
"Everyone was made to feel extremely welcome. It was a marvellous event and a fantastic celebration of the Hospice. It was also great to connect with people we had not seen in many years."
Like many supporters of the Hospice, John has a personal connection. His wife passed away in the care of Mary Potter Hospice in 1981. "At the time we were so moved by how she was looked after. When she passed away, I wanted to give back in some way."
John decided to leave a bequest in his Will. Since then, he and his husband Des have followed the work of the Hospice and seen its growth in the community.
"It plays such an important part in the community and has changed over the years to serve more people." Sadly, John's daughter and another family member passed away in the care of the Hospice last year.
"She received support and care at home, which was very important. The Hospice was able to be a great comfort to the family during that time." Bequest Coordinator Olinka Ching said the event was a beautiful way to celebrate the exceptional contribution that Club members have made to the Hospice.
"The team at Government House were so welcoming. Dame Patsy was such a gracious host and made us all feel very welcome and special." Being able to connect with members of the Club was a tangible highlight, Olinka said.
"It is so amazing to hear of people's connections to the Hospice and what has motivated them to be so generous. In some cases, it is a family member who has been cared for by our team, or in other cases, a friend or a work colleague. People see the work the Hospice does and want to make sure it is continued."
The support of bequests was absolutely vital for the ongoing continuation of the Hospice, Olinka said. "To be able to keep growing and adapting, we need people to make that special gesture by making a provision for us in their Will. Having that support allows us to care for those who need us whoever they are and wherever they live."