"It is a place that is all about life"
May 4th, 2020

Emma never thought a hospice would feel like home.

Like most people, she had no desire to enter the doors of Mary Potter. But in 2019, when her father John was told the cancer he had been battling for over a year was moving through his body, they made the short trip from the hospital to the in-patient unit.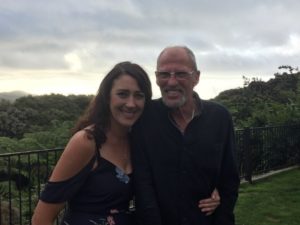 John, 67, had defied the odds of his prognosis for over a year. A keen snooker player, it seemed like as long as there was another tournament in the calendar then he wasn't going anywhere. So being told to enter hospice care, Emma says, was a blow.
"He was completely in denial about coming to Mary Potter," she recalls.
"He knew he was coming here to die and he was not ready to accept that."
But John soon warmed to the place. The smoker's area took away the shame of wanting a cigarette. The ability to walk around and chat to other patients gave him a sense of freedom he didn't have at the hospital. But more importantly, his daughter was happy.
"Dad felt really relaxed here. I think it was because of how I felt. He saw the staff welcoming me and treating me amazingly well."
Knowing her Dad didn't have long to live, Emma called her sister back from the United Kingdom. Despite no snooker to look forward to, John kept fighting.
One week in the in-patient-unit turned to three – and eventually Emma's sister had to return home.
"He was a stubborn old bugger," Emma says laughing.
During that time, Emma celebrated her 39th birthday. A year earlier, John had gone and got a tattoo of a star with a key going through it to illustrate his last name.
He had wanted Emma to get one too – but she had said no.
With her sister in town she hatched a plan with Mary Potter Hospice staff to take her Dad out on her birthday.
"The team loaded us up with medicine. They gave us really clear notes. They gave us a wheelchair and helped Dad into the car. They gave us the doctors cell phone number if anything happened. We had so much support."
The trio, along with Emma's mother, made their way to inner-city Wellington and pulled outside a tattoo parlor. John was over the moon.
"We went and got the same tattoo as him. I have got a photo of when it is getting done. He is sitting there holding my hand with this big smile on his face."
It is the little things like that, Emma says, which Mary Potter Hospice staff did to show aroha.
"What they did that was more for me and my sister. We were able to create this beautiful memory. The story would not have been the same if he was not there."
Shortly afterwards the decision was made to move John to an age care facility closer to where Emma lived. While there his health deteriorated very quickly and Emma became distressed. She called Mary Potter Hospice one day in tears – and within hours they had organized for John to come back in.
"Everyone was waiting for us when we arrived back. 'Oh John,' they said, 'so nice to have you back'."
"People gave me hugs. It was like coming home. Dad's whole body changed – he relaxed again."
The following week turned into a blur for Emma has days turned into nights as she kept a vigil by her father's bedside, along with her mother.
One morning, a nurse came in and asked if she could reduce John's medication and put the rugby on for him later that night.
"She said she felt like it was going to be a really special night for us," Emma says.
As the haka was being performed, Emma and her mother were brought dinner and a glass of wine. Sitting either side of John, who was now in a coma, they watched the game with Emma narrating it back to her Dad. The moment was interrupted when her mother reminded Emma that he could likely hear the game anyway – and that narrating it was annoying. Emma retorted back. Emma' mother said she was being annoying.
At that point John – who had not said anything for a week – opened his eyes – say bolt upright and said: "You are [expletive] annoying me too. Shut up!"
Emma laughs when she tells the story. It was the last thing her Dad said to her – but she wouldn't have it any other way. He wanted to listen to the game and she was getting in the way.
In the end, when John slipped away he did so peacefully. Emma knew that their time at Mary Potter helped shape and change end of her Dad's life.
The care is for the patients, she says, but also for the families. Things like putting on the rugby, organising a haircut for her Dad and allowing him to watch her get a tattoo added a richness to his final days he wouldn't have been able to get anywhere else.
"It is about the whole package. They just set you up to create experiences and give you the care you need for that time to be as special as possible.
End of life care could be grim, but Emma says there is a joy when she reflects back on her time at Mary Potter.
"People think this place is about death. It isn't. This is a place all about life."
---
Together, we can continue to care.
We are very grateful to you for your continued support for our service, our patients and our community as we face this time together.
We couldn't do what we do without your support. We put the patient at the heart of our service, encircling them with care and compassion so they can treasure every moment. We are here for you and your family. Please help fund our caring and compassionate work, and make a special gift today.