Hospice an exciting development for Māori and Pacific communities
February 3rd, 2020
The news that Mary Potter Hospice is developing a community hub in Porirua is exciting, says Trust House Foundation Board Member Litea Ah Hoi.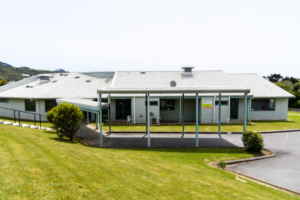 Litea, who chairs the Regional Advisory Committee for Trust House in Porirua, says she was keen to recommend that the Foundation supported the Te Whare Rānui hub with a $75,000 grant.
"What excites me is the fact that the hub is going to be located right here in Porirua," she says. "You don't have to go into Wellington or Kāpiti for support. That is really important for families who haven't quite fully accepted losing a loved one."
Litea says Te Whare Rānui is about wrap-around community care for people. It is not an inpatient facility – it is giving families another option. "What excites me the most is the Māori and Pasifika aspect of this. Particularly for Pacific people who want our older and younger family members to be taking their last breaths in their family home surrounded by the love of their wider extended fanau," she says.
"I love the work of the hospice, having experienced by own personal family losses," Litea says. "The hospice has always been there for our families. The former Mana Community Grants Foundation has had a longstanding relationship with Mary Potter Hospice."
Litea's comments were echoed by Trust House Foundation Chief Executive Officer Allan Pollard. "We are pleased to be part of an organisation that continues to offer support to such a worthy cause for the Porirua Community."
Last year 234 patients were referred to Mary Potter Hospice's North Wellington/Porirua service. This number is expected to increase significantly as the population ages and increases.
The development of Te Whare Rānui will meet the growing and diverse needs of people from Khandallah to Pukerua Bay facing a terminal illness. A specialist palliative care team of doctors, nurses, occupational therapists, social workers, counsellors and other therapists will work from the Porirua base. As well as clinical services, the hub will also provide a range of information and support services for patients, families and carers.