Festivities at Farmers
November 17th, 2022

Once again Farmers stores across New Zealand will be raising funds for their local Hospice service in the lead up to Christmas.

2022 is the 9th year that Farmers staff and customers will join together to raise funds, to keep hospice care free of charge in every community across Aotearoa.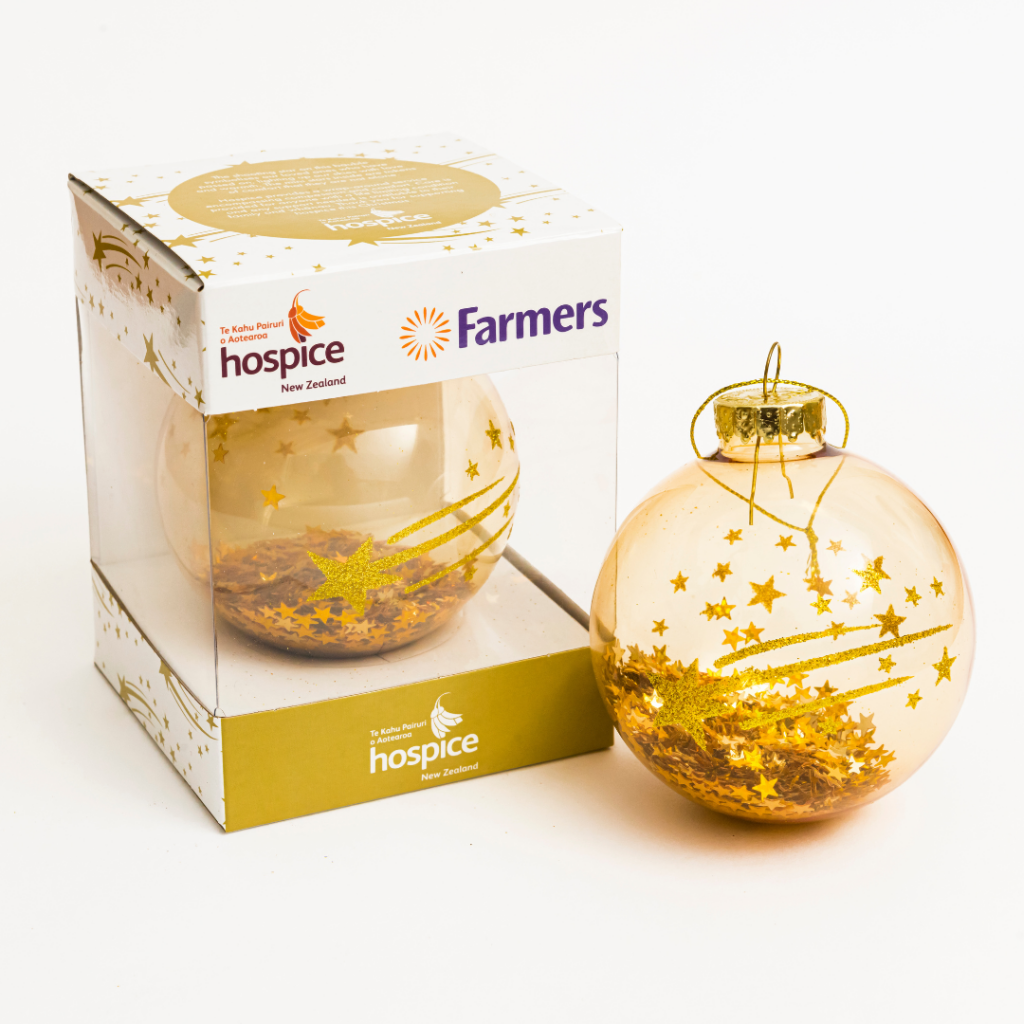 There are two ways Farmers customers can support their Hospice from 17 November until Christmas Eve – by donating to the Tree of Remembrance in Farmers stores or by purchasing a limited-edition hand painted hospice bauble, available in store and online. Each bauble is $10 and thanks to the generous support of Farmers, the full $10 from every purchase will be donated to the local hospice service. Farmers also passes on 100% of all customer donations to hospice from the Tree of Remembrance.
The meaning behind this year's bauble
Tina Parata, Kaiwhakahaere at Hospice New Zealand says the stars on this bauble are poignant. "This is Aotearoa's first year celebrating Matariki, a time when we remember and celebrate those who are no longer with us. So for me, the stars on this bauble represent our loved ones who have died, lighting up our skies with love and warmth. The mini stars inside, represent all our tupuna, who are watching over us, supporting us and guiding us into the future."

This year's design is also is very poignant to us at Mary Potter Hospice. As the stars guided the great Māori navigators to Aotearoa, Mary Potter Hospice supports and guides our patients and their families or whānau on this journey. Each patient, too, is like a star guiding the Hospice and its work. And our patients are with us, in our memories and hearts, like the stars in the sky, when their journey ends. The Hospice's Māori advisory group, Te Pou Tautoko chose the phrase 'whetū i te rangi' to depict this philosophy.

Thank you to Farmers Lambton Quay, Farmers Kilbirnie, Farmers Porirua and Farmers Paraparaumu for your support!