For Lisa, Tuesdays have become a highlight
March 24th, 2021
On Tuesday afternoons, in the Kilbirnie pool café, you might see Alan and Lisa sitting with their coffees, talking and laughing.
They are partnered in the companion service at Mary Potter Hospice – but they are also now friends. Lisa was referred to the Hospice after she was diagnosed with terminal cancer. One of the services she was offered was being part of the Hospice's companion service.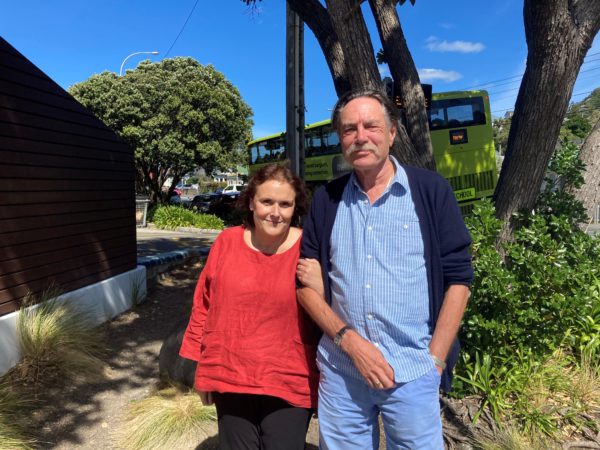 The service pairs patients with a volunteer, who spends time with them for a couple of hours each week.
"I wasn't sure about it to begin with. I didn't want people to think I didn't have friends or was really needy," Lisa says. "But then I realised it could be really beneficial."
Lisa's first companion had to step back a few months after they met.  Soon afterwards she was introduced to Alan. "The coordinator at the Hospice said it may be tricky finding another companion and asked if I wouldn't mind spending time with a man.  She said she had a lovely one in mind."
"Oh, was that me?," Alan interjects dryly.
The pair clicked quickly from the start. "Alan is a good soul."
"I have great friends who I catch up with, but Alan is outside of my life and someone who I can talk to about anything and everything without worrying. It is really exceptional."
Alan moved to New Zealand two years ago with his husband Shaun who works as a specialist nurse at Mary Potter Hospice. Alan says he has benefited from Lisa's company too. "She has taught me about Kiwi culture and about Wellington and how things are here. We drive to many different areas and I have learned a lot about the city. "It has also been great to have that connection and ability to talk. I really look forward to it. It isn't a chore at all."
Lisa makes the call on what they do each week, Alan says. Sometimes it is a trip to the pools, other times they head to the coast or the shops. Whatever they are doing, there are lots of laughs along the way. "Wherever we go, we usually finish off in a café. We talk from start to finish."
"There is value in the fact I am not part of her group of friends, her family or medical team. It is all about listening and being a good support."
Being a companion is extremely rewarding, Alan says. He feels well equipped as Mary Potter Hospice provides training and excellent ongoing support to the companion team. "It is very much a two-way thing. We get along really well and I get huge joy from the time I spend with Lisa." For Lisa, Tuesdays have become a highlight.
"I am very grateful to Alan. He has been very kind and gracious. He has been a real friend and it has meant a lot."
Learn more about our companion service here. If you would like more information about the companion service, please speak to a Hospice staff member.
If you are interested in becoming a Community Companion Volunteer, please contact:
Imelda Coleman – Community Volunteer Lead, email Imelda.Coleman@marypotter.org.nz