Helen's story
June 20th, 2022
Helen's love of an op shop bargain led her to volunteer at the Mary Potter Hospice Shop.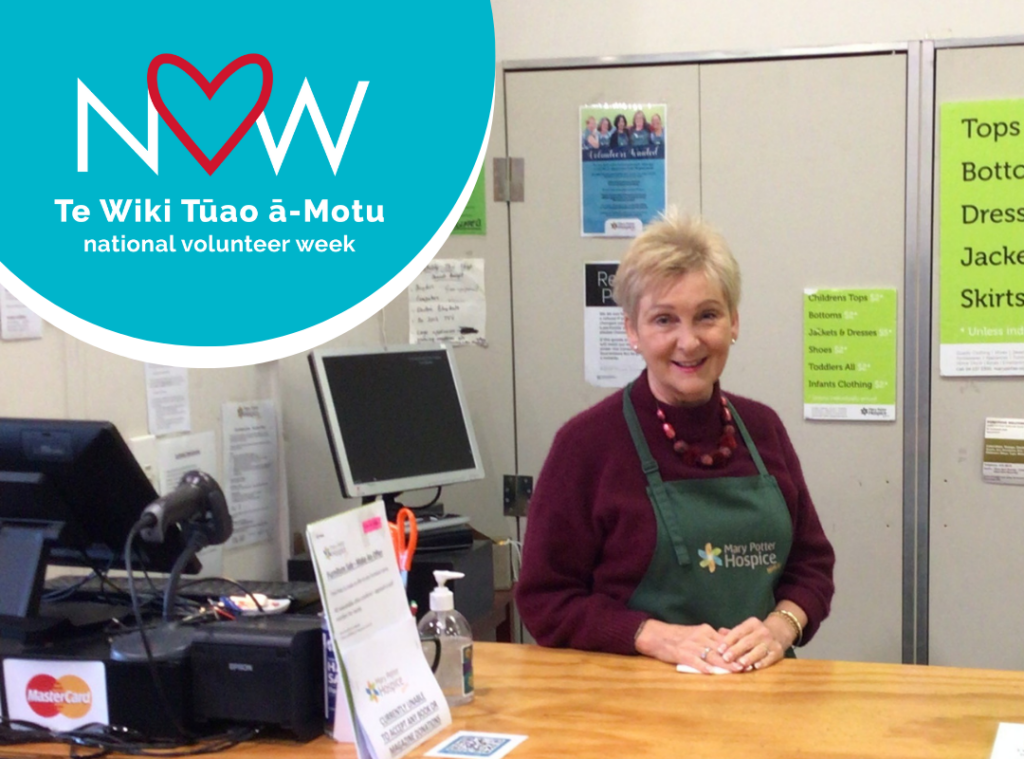 "I was a high school teacher in Tawa, and there's a very good Mary Potter Hospice Shop there which I loved to go to. So when I retired, I decided I wanted to work there. It was about wanting to give back, and also wanting to work on recycling clothes. The Hospice Shop was my favourite!"
When Helen applied to volunteer, she thought the shop in Tawa would be perfect, but it was actually the Thorndon store that had more need of extra volunteers, so Helen started doing shifts there instead.
"I absolutely love it – it's fantastic. I started in October, and because I'm a relief teacher I said I'd give it until February, because over the summer months I don't do any relieving. I didn't want to commit at that stage, but I loved it so much that when February came around I said I wanted to stay. I told the school I can't relieve on a Monday because I'm volunteering that day."
Helen really enjoyed doing the Mary Potter Hospice volunteer training. "I've learned all about the Hospice, which is great."
She describes the Thorndon Hospice Shop as a treasure trove. "I love how people always leave the shop with something. It's one of the best shops for second hand books, and people often come in and buy 4 or 5 books – they find things they didn't know they were looking for. A real variety of people come into the shop, and I like seeing them and helping them."
Helen often spots a bargain herself while she's doing her shifts. "I'm a bit of a shoe freak, and I've bought three or four pairs of shoes from the shop. They're very well priced. My husband always asks what I'm going to bring home today! I like to dress up for my shifts too. When you retire you tend to just put jeans on, so the shop shifts are a nice excuse to dress up a bit."
Helens advice for retail volunteers is to just enjoy it. "To volunteer, you've just got to love life, embrace everything and be happy. Be warm and caring and make the customers feel good, and they'll come back."
She also encourages people not to be put off by the application and approval process. "It takes 3 or 4 weeks, but it's worth persevering. It's so worthwhile, you don't need to give up a lot of time, and there's not too much training. Plus, the people are so nice. Anyone thinking about volunteering should just do it!"

Thank you to our amazing volunteers who work with our patients, families and whānau, keep our shops operating and support our staff behind the scenes. Your time, skills, experience, fundraising and passion supports Mary Potter Hospice to offer our valuable services free of charge.
A huge thank you for your patience throughout the pandemic as we experienced different challenges. We hope you enjoy volunteering with us as much as we enjoy working with you.
If you are interested in volunteering for Mary Potter Hospice, we'd love to hear from you. View our current volunteer vacancies here, or email volunteer@marypotter.org.nz with your enquiry.