"Hospice has made us feel so good, so we wanted to get married here."
May 28th, 2021
There were wedding bells at Mary Potter Hospice Inpatient Unit this week.
John, who has motor neurone disease (MND) and Amy were married after being together for 21 years, by Mary Potter Hospice Patron Dame Kerry Prendergast.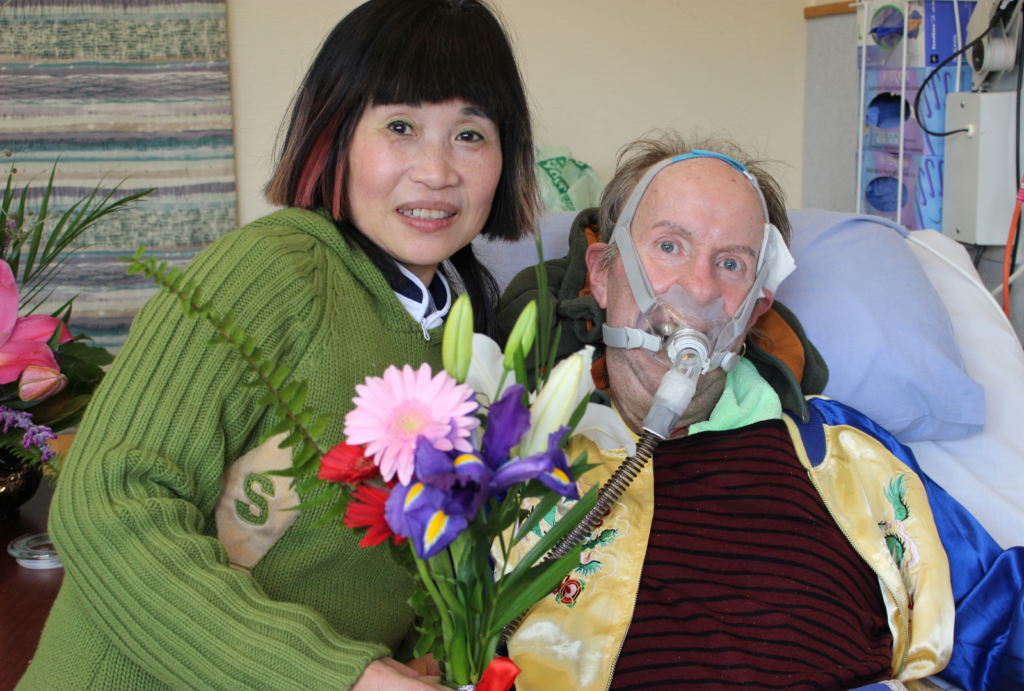 John is a chef and he and his new wife, Amy, met in 1998 and worked together as sushi chefs.
Amy is a loving and caring partner. John came into the Inpatient Unit to give her some respite, but she has been with him each day and each night in order to be with him.
John uses his iPad to communicate and wears a mask to support his breathing.
"Helping John with MND at home is tough. I was very tired. But being at the Hospice has made us feel so good, so we wanted to get married here.
"We've wanted to get married for a long time. We love each other. Hospice has been wonderful," says Amy. John wore his special silk jacket decorated with Chinese dragons, and they exchanged rings during the ceremony.
"Hopefully every day is a good day for him. I'm doing my best for my darling."
Amy says that the nurses and doctors have looked after both of them. "They've been a big help – fantastic."
"People here are always smiling and have happy faces. At first John didn't want to come here and now he doesn't want to go home."