"I've really been able to find out at first-hand how powerful music is."
April 21st, 2021
From time to time the beautiful sounds of the harp can be heard at Mary Potter Hospice – played not to entertain, but to heal.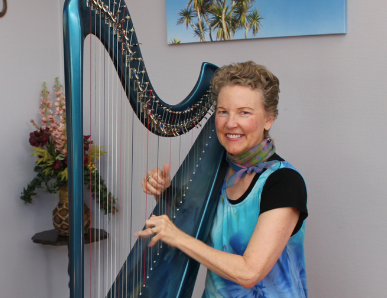 Carolyn Mills, has been playing the harp as a professional musician for the NZ Symphony Orchestra for 32 years, and is the Principal Harpist. She is also a therapeutic music intern and is learning to use music as a therapy in the palliative care setting.
"I'm interested in the world of therapy with music. I know that live therapeutic music can create a space for healing, relieving anxiety and pain relief," says Carolyn.
"There's evidence that therapeutic music can lead to fewer hospital admissions, reduced pain medication, and less depression – all of these things are possible."
Carolyn has played at Mary Potter Hospice a few times through the NZSO Outreach programme.
One of her first patients was a woman with very limited speech and movement. But when she saw the harp she kept saying yes, yes, with a smile on her face. "It was very moving."
Another Hospice day unit patient in a wheelchair got up and moved gently with a staff member when Carolyn played.
"I'm not saying that therapeutic music will make a person well again, but I know that it can help some parts of a person."
"I really love the work, it's very rewarding. I love the fact that we are using music in a much more intimate and personal way.
"I'm in the room creating a communication with the individual. It's much more personal than being on the stage. I've really been able to find out at first-hand how powerful music is."