Life's a lesson
July 13th, 2022
'Life's a lesson', is Michelle's guiding star and one that she's taken to heart.
Born and raised in Titahi Bay, Michelle has been a musician, an artist, and is a patient of Mary Potter Hospice. "Life's a Lesson" is the title of her biography, written with a Hospice biographer.
"Someone said something to me once, 'don't let life eat you up'. I took that to heart. It's the hand you're dealt, and you deal with it the best way you can. Life is what you make of it. You have to learn the lessons. That's what I believe," reflects Michelle.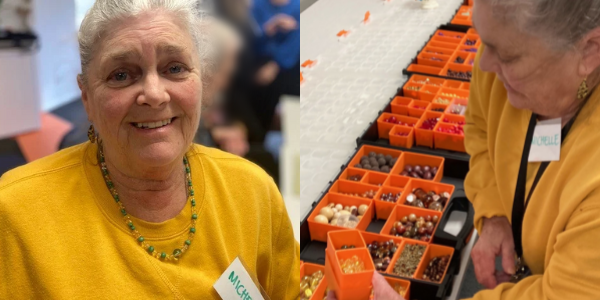 Michelle is Irish/Scottish and her children's Dad was Māori. Michelle is part way through a painting for her 22-year-old granddaughter to reflect her whakapapa. It has Rarotongan, Maori and Celtic/Irish symbolism.
With four children, 11 grandchildren and eight great grandchildren, Michelle has lots of whānau around her. Her youngest great moko is two, and goes out with Michelle on her mobility scooter. "She sits on my lap and thinks she's driving it herself."
Her life has been rich, including completing at art diploma, making a record, creating jewellery, working with children with autism, and having an exhibition at Pataka.
There have been tough times too, but all-in-all Michelle says it hasn't been a bad life.
Her illness has slowed her down, but she still gets huge enjoyment from being creative. "I try to find things I can do that don't affect my breathing. I find my motivation isn't as high now."
Michelle loves attending the weekly Day Unit at Te Whare Rānui (Mary Potter Hospice's Porirua community base).
"I like the social side and the craft. I like the people there. I get picked up by a volunteer. I've helped organise birthday celebrations for other patients. I think people deserve to be made a fuss of. One person turned 90. That blows me away that you can get to that age."
Michelle now lives in a comfortable unit in Titahi Bay which the Hospice social worker secured for her, and gets visits from Hospice nurses, Maori Liaison and therapists.
"I was really grateful for this place. It's a nice area. The people are friendly."
She recently had about 50 self-sown tomato plants that she gave away.
"I like being involved. If I sit here too long you brood, feel sorry for yourself. But if I'm doing things for others I'm not looking at me, I'm looking at them."