Like mother-in-law, like daughter-in-law
August 25th, 2023

Gratitude towards Mary Potter Hospice can span generations, just like with Peg and Margaret.

Margaret's husband Dennis was Peg's fourth adult child to receive care from Mary Potter Hospice.

Peg, 94, lived a busy life. Peg and husband Ken owned the dairy on the corner of Rolleston Street and Wallace Street in Te Aro, plus another local dairy.

"We had a very busy life, and bringing up five children as well. My mum was an absolute saint," says Peg. "She was always there to help us. She had a full time job. She used to come up after her work. She was a big thing in our life."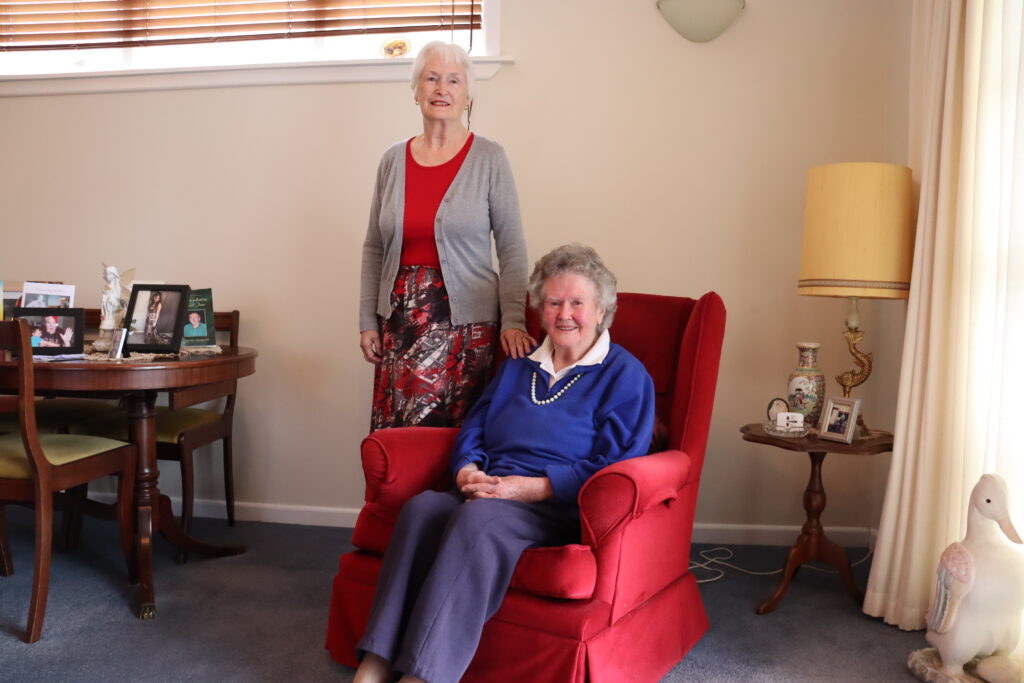 Sadly, in 1994 Peg's eldest daughter became sick.
"I do remember the bedroom being filled up with Mary Potter people coming and going, even the doctor used to come."
"She was 41. It came from out of the blue. I remember that I could not have managed if it wasn't for Mary Potter."
After that another son and daughter died, all with unrelated cancers.
Then Dennis, Peg's fourth son and Margaret's husband became unwell.
Margaret says that she spent nights staying at Peg's house when Dennis was in the Hospice.
"When he was in the Hospice they assessed his medication which gave him a real boost.
"Dennis wasn't one to give praise. He never expressed himself in a big way. But he was so happy in the Hospice, in the inpatient unit, he really was. It's a wonderful place, it really is a wonderful place," says Margaret.
Dennis wanted to go home so the Kāpiti-based community team supported him there.
Peg and Margaret both agree that leaving a gift in their Will is a way to help ensure that the Hospice can continue to help in the future.
"That's why I support Mary Potter Hospice. People are very vulnerable at that time. What if it all folded up and there was no one to come out and care for people? It would be terrible," says Peg.
"I can't speak highly enough of them," says Margaret. "I can't imagine how I would have coped without Mary Potter."
Will you help us to care in the future?
A gift in your Will to Mary Potter Hospice is a wonderful way to help people living with a life-limiting illness live full, comfortable and dignified lives.
We've created a special Guide to Writing Your Will, to make the process as easy and stress-free as possible. Fill in your details below to download the guide and receive bequest information from Mary Potter Hospice: