Mary Potter Hospice goes dementia friendly
November 5th, 2021
Mary Potter Hospice has become the first hospice in New Zealand to be formally recognised by Alzheimers NZ as Working to be Dementia Friendly.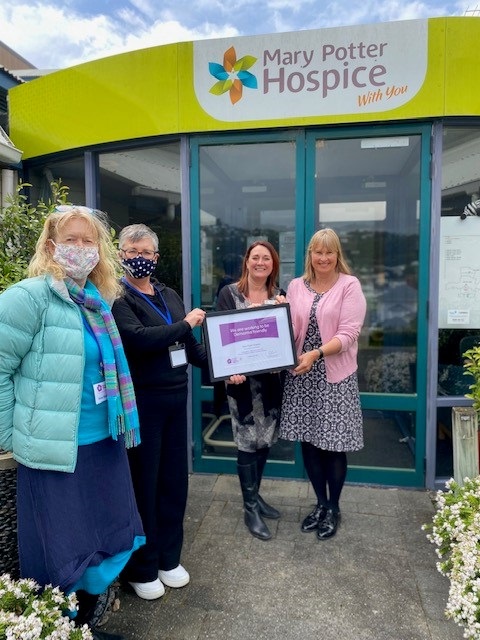 The Hospice operates in Wellington, Porirua and Kāpiti and a number of its patients are affected by dementia and the number is expected to grow.
Hospice Chief Executive Brent Alderton says it's critical staff can offer the best support to people living with dementia, whether they are patients, whānau or visiting the Hospice.
"The dementia journey can be very challenging, especially in its later stages, and the more we learn about the condition, the better and more empathetically we can do our jobs at the Hospice."
Alzheimers NZ's Dementia Friendly Recognition Programme is for businesses and organisations that want to ensure they are as 'dementia friendly' as possible, and this involves working to achieve formal dementia friendly status.
At its core, being dementia friendly is about taking a person-centred approach, learning what people with dementia want, what works for them and what they find helpful when they need hospice services.
Ensuring an organisation's staff are well educated about dementia is a core requirement, including how they can best interact with people who have dementia and how to present information in a way they can access easily.
"All the research shows conclusively that many, many thousands of New Zealanders will develop dementia as we age – the numbers will nearly triple in coming years – and, as a society we need to do more now, urgently," says Alzheimers NZ chief executive Catherine Hall.
"Our Dementia Friendly Recognition Programme is a growing community of organisations, including well-known brands, that recognise the importance of building a dementia friendly Aotearoa New Zealand and of providing better support and services for people with dementia.
"Unless we do something about dementia in this country very soon, there's a very real possibility it will overwhelm our health system in coming years."
Brent Alderton says 40 of the organisation's staff have also become Dementia Friends by completing a short, online learning programme for individuals who want to learn more about dementia and how to support people with the condition.