Mia's story
June 20th, 2022
Mia is a Year 12 student who volunteers at the Mary Potter Hospice Shop in Miramar.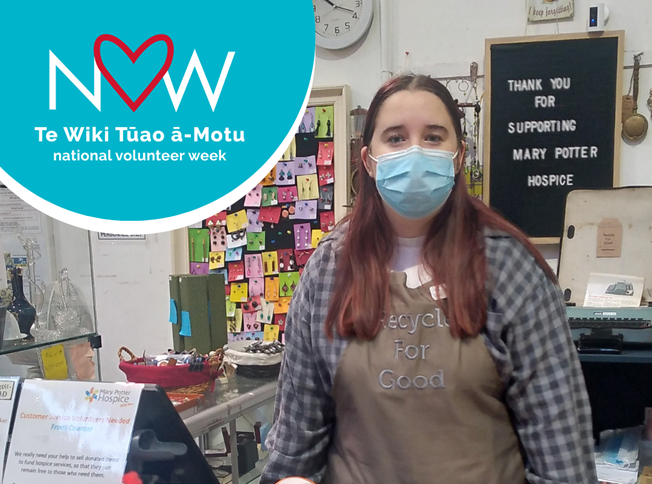 "I started volunteering because it was advertised at my school that the Hospice shop needed extra students to help out. My mum used to volunteer for Mary Potter Hospice, helping with serving dinner and activities at the Hospice in Newtown, and this encouraged me to give it a go."
Mia has now been volunteering at the shop for three months, going in each Saturday for a three-hour shift.
"I do the till work mainly. It's quite fun – the people are funny, it's a nice environment and the music is good! I look forward to it for most of the week."
Mia enjoys the customer service aspect of her role, because she likes talking to people. "It's a fun role. Everything runs pretty smoothly, and we got new tills recently as well, which work much better."
Another benefit of the volunteer role is the friendships that Mia has formed at the shop. "Other people from my school volunteer there too, who I didn't know before. We've become friends now, which is great."
And Mia's advice to any student considering volunteering for Mary Potter Hospice? "I'd say they should go for it! It's good work experience and good life experience. It's a fun time and it's all for a good cause."

Thank you to our amazing volunteers who work with our patients, families and whānau, keep our shops operating and support our staff behind the scenes. Your time, skills, experience, fundraising and passion supports Mary Potter Hospice to offer our valuable services free of charge.
A huge thank you for your patience throughout the pandemic as we experienced different challenges. We hope you enjoy volunteering with us as much as we enjoy working with you.
If you are interested in volunteering for Mary Potter Hospice, we'd love to hear from you. View our current volunteer vacancies here, or email volunteer@marypotter.org.nz with your enquiry.