National Volunteer Week: Annette
June 23rd, 2020
Annette believes food tastes better when it's made with love.
As a Volunteer Cook at Mary Potter Hospice's Kāpiti Day Unit, Annette brings a smile to many patients' faces with her culinary skills. "It is a humbling experience to be able to share and give something to other people who are going through such a difficult time. It gives me great pleasure."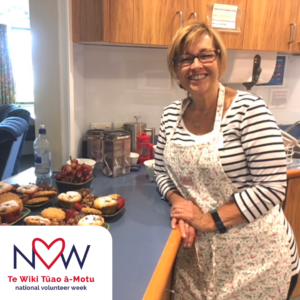 Originally from the UK, Annette immigrated to New Zealand with her husband six years ago. She wanted to get to know her community so looked for opportunities to volunteer. She spotted an advert for volunteer cooks to help with food at the Kāpiti Day Unit and applied.
"Volunteering makes you feel part of a community. I had lost two cousins while I have been in New Zealand to cancer who had been in Hospice care. I know how vital and important the work is. While I am not medically minded, the thought of giving back via food was a good idea."
The team of volunteer cooks always try to "inspire and impress", Annette says. The volunteers all share recipes and try to create masterclass meals for the patients who visit the Kāpiti Day Unit. Annette's specialty is sweet treats.  "I love whipping something up and putting a smile on someone's face. I particularly love desserts. We try and put effort into the presentation of the dishes."
Getting to know the patients was the highlight, Annette says. She and the other cooks often sit down and eat with the patients. Being able to chat about life – and often food – brings a lot of joy, she says.
"We sit down at the table and all eat together. We all tell each other different stories about all sorts of different things. We all have a good laugh together – it is amazing."
Annette, who has volunteered at a number of organisations in both New Zealand the United Kingdom, says that Mary Potter Hospice is particularly special. "I am proud to belong to such a good organization that does such amazing things."
Thank you to our amazing volunteers who work with our patients, families and whānau, keep our shops operating and support our staff behind the scenes. Your time, skills, experience, fundraising and passion supports Mary Potter Hospice to offer our valuable services free of charge.
 A huge thank you for your patience during COVID-19 as we experienced different challenges. We hope you enjoy volunteering with us as much as we enjoy working with you.
If you are interested in volunteering for Mary Potter Hospice, we'd love to hear from you! View our current volunteer vacancies here, or email volunteer@marypotter.org.nz with your enquiry.