National Volunteer Week: Colin
June 23rd, 2020
Every day across Wellington, Porirua and Kāpiti, Mary Potter Hospice is collecting used goods for its Hospice shops. Behind some of those collections is Colin.
Colin has been volunteering for the Hospice for two years – and has enjoyed every minute. "I love moving around the city and meeting different people and the different volunteers at the shops."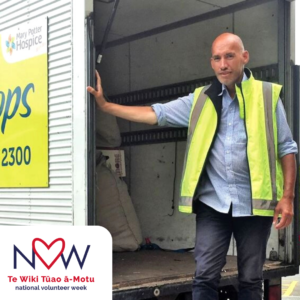 Colin volunteers as a Truck Hand, which involves accompanying the driver to different homes around the region and collecting goods that are being donated. The items are also assessed to determine their value and whether they will sell. Once the item is collected it is then moved to the Retail Support Centre in Newlands where items are sorted and then sent to the one of the eight Mary Potter Hospice shops. "With time, you get to know what sells and what doesn't. I go in and asses the item and determine whether it is something we can take."
As a Truck Hand, Colin's job involves working as a team with the driver when they are on the road. Colin answers any incoming calls and keeps the driver up to speed on how they are tracking with their jobs. "At times there can be a lot of different things going on at once. That is what I like about the job. Every day is a bit different and brings new challenges."
Being able to meet some of the 300 other people who volunteer at the Hospice shops was a highlight, Colin says. "The volunteers at Mary Potter Hospice are some of the most dedicated volunteers I have met. It is great to see people and have a chat about life and what is going on for them. That is the thing I like most."
Colin is passionate about volunteering. His advice for people thinking about giving their time to an organisation is to do something which you care about. "You need to know what you want from it. Whether that is building your confidence or getting some news skills. It is important you think about that."
Thank you to our amazing volunteers who work with our patients, families and whānau, keep our shops operating and support our staff behind the scenes. Your time, skills, experience, fundraising and passion supports Mary Potter Hospice to offer our valuable services free of charge.
A huge thank you for your patience during COVID-19 as we experienced different challenges. We hope you enjoy volunteering with us as much as we enjoy working with you.
If you are interested in volunteering for Mary Potter Hospice, we'd love to hear from you! View our current volunteer vacancies here, or email volunteer@marypotter.org.nz with your enquiry.