National Volunteer Week: Jane
June 23rd, 2020
When Jane was made redundant, she decided she wanted to do something useful with her time. She began looking for volunteer opportunities – and quickly found one at Mary Potter Hospice.
"I just knew I had to do something. Even if it was just one day a week. A friend of mine said, 'Why don't you volunteer at the Hospice? So that is what I did." For three years now, Jane has volunteered on the reception desk at the Inpatient Unit in Newtown.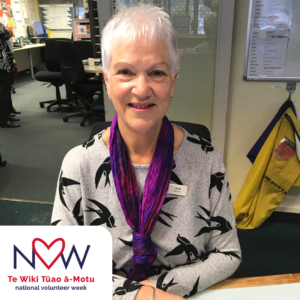 She is one of the smiling faces visitors are greeted with when come into the Unit. After 40 years working in administration and management the role suites her well, she says. "Volunteering was one of the best things I could have done. I really enjoy being here. I feel valued and always come away feeling good about myself."
Each day is different and often fast paced. If Jane isn't answering phones or helping with paper work, she is welcoming people as they come in the door. "If I ever have questions – which I have a lot of, because I don't come from a health background –  the IPU Administrator or the Nurses always help me. If I am dealing with someone face-to-face and the phone rings, someone will pick up and answer it for me. Everyone helps everyone else, which is amazing."
Jane believes that anyone who has some spare time of their hands should think about volunteering. Volunteering benefits the organisation, but also yourself, she says.  "I have found it very rewarding. It is something that I would recommend to anybody."
Volunteering at the Hospice has become an important part of her life, Jane says. One of the reasons she enjoys it so much is how well she is treated by the wider Hospice whānau. Giving time doesn't feel like volunteering, it feels like a privilege, she says.
"You are treated exactly the same as everyone else. Sometimes I feel better treated now than when I was employed! I get offered cups of tea and coffee all day. Often people will drop in chocolates or baking and I am always included in that. The Hospice staff make you feel part of the team. It is very special."
Thank you to our amazing volunteers who work with our patients, families and whānau, keep our shops operating and support our staff behind the scenes. Your time, skills, experience, fundraising and passion supports Mary Potter Hospice to offer our valuable services free of charge.
 A huge thank you for your patience during COVID-19 as we experienced different challenges. We hope you enjoy volunteering with us as much as we enjoy working with you.
If you are interested in volunteering for Mary Potter Hospice, we'd love to hear from you! View our current volunteer vacancies here, or email volunteer@marypotter.org.nz with your enquiry.