National Volunteer Week: Kossoma
June 23rd, 2020
As a keen sewer and avid op shop lover, it was a natural choice for Kossoma to volunteer at Mary Potter Hospice's Cuba Street store.
Over three hundred volunteers generously support Mary Potter Hospice by giving time to the Mary Potter Hospice shops across Wellington, Porirua and Kāpiti. Kossoma is one of those three hundred – she volunteers in the Cuba St shop helping to curate, cost and sell the collection of goods in store. Originally from France, Kossoma decided to volunteer at the store while looking for work.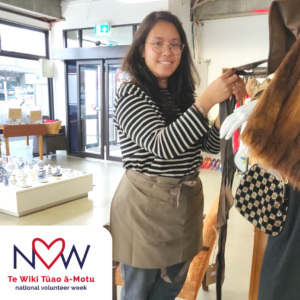 "I love op-shopping and the Cuba Street store is very pretty. I was looking for a job and someone from the shop said they were taking on volunteers, so I signed up. I love the team, the shop and the customers."
From day one, Kossoma says she felt really involved in the shop's workings and quickly realised she had a skill at pricing the many donated objects.
"I am an introvert, so to begin with I wasn't sure about being in the store front. I really like clothes. I sew my own stuff, I know fabrics quite well, so it was easy to estimate the quality of the garments before they get put on the rack."
It wasn't long before Kossoma was in the store front – something she has grown to enjoy."The customers are so nice and so excited. It is enjoyable to be on the till."
The Cuba Street shop is the Hospice's newest store. Opened in December 2019, the shop specialises in retro vintage furniture, fashion, homeware, accessories and other carefully curated goods. The care taken by the Shop's staff to make sure the best products are displayed is appreciated by the customers, Kossoma says.
"I really like the team and the customers. We are all very similar people. We love op shops because we love the history of an object and the nostalgia attached to it."
Kossoma gives time to the shop most days and says that volunteering for the Hospice has filled a gap. "I just really like the human side of it. It is really nice to be around people who are so kind and passionate."
Thank you to our amazing volunteers who work with our patients, families and whānau, keep our shops operating and support our staff behind the scenes. Your time, skills, experience, fundraising and passion supports Mary Potter Hospice to offer our services free of charge.
A huge thank you for your patience during COVID-19 as we experienced different challenges. We hope you enjoy volunteering with us as much as we enjoy working with you!
If you are interested in volunteering for Mary Potter Hospice, we'd love to hear from you. View our current volunteer vacancies here, or email volunteer@marypotter.org.nz with your enquiry.