National Volunteer Week: Sandra
June 24th, 2020
After 40 years of nursing, Sandra still wanted to help others. As she began scaling back her career in healthcare, she looked for opportunities to volunteer.
"I wanted to do something that involved helping people." she says. Sandra knew the Hospice was a good cause to commit her time to. Her husband's cancer diagnosis made it even more relevant. Ten years later, Sandra is still volunteering at the Hospice and her husband has recovered fully. "I enjoy it very much. It is a very comfortable and serene place. The people who work here are lovely and caring."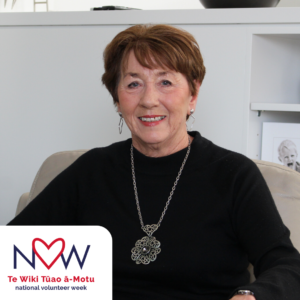 Sandra gives her time helping out with a number of roles in the Hospice Inpatient Unit in Newtown. She says she enjoys being able to help the patients and their families. "Sometimes people just need a bit of a chat and that helps them. I really enjoy all the people I meet and my time at the Hospice gives me a lot of satisfaction."
Sandra says the other volunteers at the Inpatient Unit bring a lot of joy to her life. The friends she has made through volunteering socialise outside of the Hospice from time to time. "Over lockdown our manager set up a zoom session so we could all chit chat about what we were doing during this unusual time."
After a decade of volunteering, Sandra says she is still enjoying it as much as when she started. She likes being in a clinical environment, given her nursing background, and says the care at the Hospice is "outstanding".
"I love being there. It isn't a sad place to be, despite what people might assume. There is a lot of joy there and a lot of peace. It is nice to be a part of that."
Thank you to our amazing volunteers who work with our patients, families and whānau, keep our shops operating and support our staff behind the scenes. Your time, skills, experience, fundraising and passion supports Mary Potter Hospice to offer our valuable services free of charge.
 A huge thank you for your patience during COVID-19 as we experienced different challenges. We hope you enjoy volunteering with us as much as we enjoy working with you.
If you are interested in volunteering for Mary Potter Hospice, we'd love to hear from you! View our current volunteer vacancies here, or email volunteer@marypotter.org.nz with your enquiry.