Never one to shy away from a challenge
May 11th, 2022

Never one to shy away from a challenge, Fiona fitted a lifetime of achievements into her 53 years.

From earning her PhD when she was 49, to cycling the length of the UK, there's wasn't much that could slow Fiona down. But when she was diagnosed with a brain tumour in June 2020, Fiona, her husband Christopher and their two sons then aged 10 and 16 knew that treatment options were limited.

Just like the grit she showed in her career as a family lawyer, she was determined to face her illness as a challenge.

Her husband Christopher said that Fiona started radiation therapy after her first surgery to remove the tumour, and decide to use swimming as her recovery therapy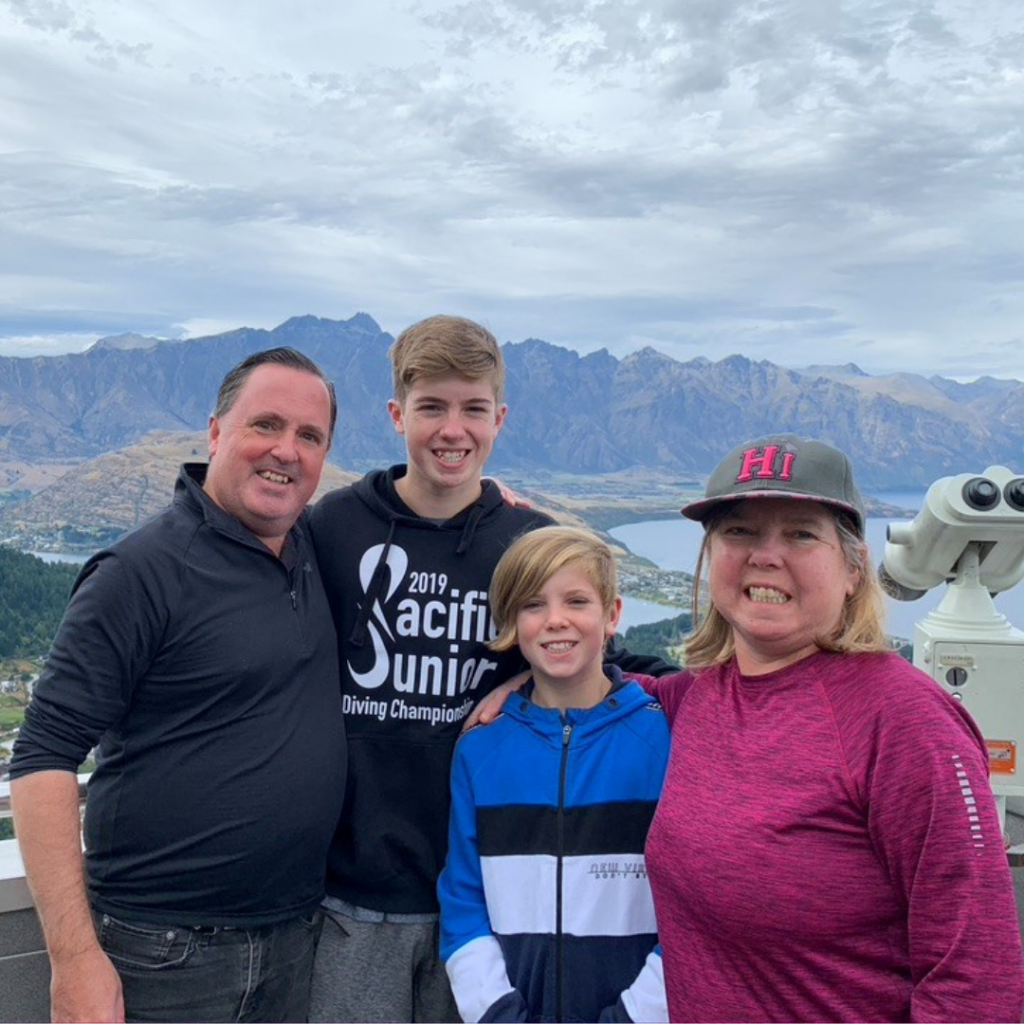 "She tried to see how many lengths she could do, and was soon doing 150 lengths of Kilbirnie pool. She set herself the target of swimming the length of New Zealand. Unfortunately, the reality was that she ran out of time."

After a second surgery in February 2021, the family went on holiday to Queenstown and soon after Fiona was getting care from the Hospice at home.

"We'd had a visit from the Hospice occupational therapist and social worker, and we were getting set up to look after Fiona at home," says Christopher.

But Fiona declined quickly and soon became immobile.

"A Hospice nurse visited and she realised we were in crisis and it was too much to look after Fiona at home. So we changed the plan and moved Fiona to the Hospice inpatient unit."

It was Fiona who had been the driving force to emigrate to New Zealand from Scotland when their son Cameron was three.

"She had an unexplainable connection to New Zealand," says Christopher, a Canadian. "She was in love with this country from afar. Then we came here on a maxi-honeymoon and that sealed it for Fiona. This was where she wanted to live."

Even though being in New Zealand was the realisation of a dream for Fiona, she was delighted when two Scottish Hospice nurses visited her room on her first day to welcome her.

"Moving into the Hospice was daunting and we didn't know what to expect, but that was a lovely gesture that made Fiona feel at home."

Christopher said there was always a lot of fun about Fiona, including during her stay at the Hospice.

"A favourite activity was to be hoisted into the ultra-soft Cloud chair and be wheeled around the verandah. Her closest friends did the same, and they would sing their favourite songs. It seemed a very normal, happy thing to do."

Towards the end, when eating wasn't so easy, Fiona ordered many, many meals of scrambled eggs.

"The level of service from the Hospice was amazing," says Christopher. "Whatever Fiona felt like she was given. The volunteers, the hospitality team, and the kitchen staff – they all wanted to make her happy in those last few weeks."

Three weeks before Fiona passed away, sons Cameron and Ross competed in the National Diving Championships. Christopher spent the weekend downloading videos of their events and showing Fiona. The boys returned with several medals and Ross won a trophy for the best performance in his age group.

"Upon their return on the Sunday evening, we visited Fiona in the Hospice. The nursing team had crafted gold medals for all three of us and we had a mini-celebration with Fiona and the nursing team. Those medals are still hanging on our mantlepiece and my medal hangs from the mirror in our car.

"It made us all feel very special."

Christopher said he and Fiona, were impressed that the values that the Hospice stands for around kindness and compassion, and respect for the individual were so consistent.

"It didn't matter if it was the person serving her food, a nurse or doctor, a pastoral carer, the cleaners, whoever. There was a consistent level of kindness, compassion and respect. It was remarkable."
Please help us be there for families like Christopher's.
Thanks to your help, every year we're able to care for over 900 husbands and wives, sisters and brothers, sons and daughters, whānau, partners, friends, neighbours and colleagues in Wellington, Porirua and Kāpiti.

While the care and support we provide is free-of-charge to our patients, it does cost us to provide it. Only 44% of the funding we need comes from Government, and some services such as our Enhanced Hospice at Home service, which provides home-based hospice care after hours and on weekends, receive no Government funding whatsoever.

That's why we need your help. We rely on the generosity of people like you to ensure that our care is always there – when and where our patients need it most. Please help your local Hospice and support Mary Potter's Appeal this May.