"Our time together is something I look forward to."
May 19th, 2021
Each week, volunteer Annie helps Joslyn plan her great escape. There isn't any tunnel digging – it's more cafes, coffees and museums.
Joslyn is a patient with Mary Potter Hospice, and Annie is her volunteer companion. The pair spend time together once a week doing things that Joslyn finds fulfilling – usually it involves getting out of the residential care facility Jos lives in.
"Sometimes it is a walk around Newtown – other times we go a bit further afield," Annie says.
"I let Jos decide the programme. We are dependent on a mobility van – whatever we are doing, we make the most of the time we have."
Annie became involved in the companion programme at Mary Potter Hospice after a friend recommended it. She now gives a few hours, one day a week, to spend time with Jos.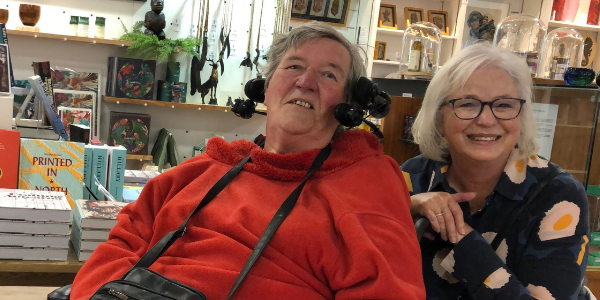 "I really enjoy our conversations, we talk on a wide range of topics. We usually have solved the world's problems once we have walked around the block."
Joslyn signed up to have a companion after a Hospice nurse recommended the programme.
"The Mary Potter nurse suggested I may like a companion to walk with me when I go into town in my wheelchair. I agreed because I like company and having someone to join me makes the trip out more interesting."
Annie and Joslyn were connected and quickly formed a good bond.
"Annie is friendly, interesting and fun. She is happy to suggest new places to go. She is also willing to help me while out in the wheelchair," Joslyn says.
"Our time together is something I look forward to."
While some patients may be reluctant to engage in the companion programme, Joslyn says it is definitely worthwhile.
"Annie is a regular understanding and reliable companion."
"I would highly recommend accepting a companion as I have found it offers another view of life – especially when an illness limits your ability to pursue the interests you may have had."
Annie has done a lot of volunteering, but says working as a companion is particularly rewarding.
"I don't feel like it is a chore at all. I feel lifted up when I come home."
"If people are looking for somewhere to volunteer it is a great thing – there are no committee meetings, no fundraising – you are just there to make someone's day a bit better."
"It is all about two people connecting, it has nothing to do with their illness."
Learn more about our companion service here. If you would like more information about the companion service, please speak to a Hospice staff member.
If you are interested in becoming a Community Companion Volunteer, please contact:
Imelda Coleman – Community Volunteer Lead, email Imelda.Coleman@marypotter.org.nz