Celebrating love and life at Mary Potter Hospice
July 21st, 2020

She asked him to marry her, and he said yes. After being together for 38 years, Marg and Roy were married earlier this month in the small chapel at Mary Potter Hospice. As Marg walked down the Inpatient Unit on the arm of her honorary mother Phyllis, the staff of the Hospice lined up to applaud and support. "It was such a kindness. It made me feel like a million dollars," says Marg.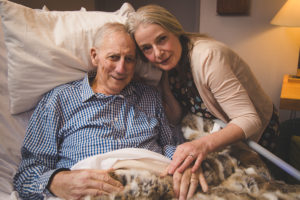 Marg had put off getting married. Unbeknown to Roy she had once had her palm read as a child and was told she would live a long life, but have a short marriage. She remembered that and when she met Roy she 'fell deeply in love with him". They got engaged, but never married.
But after Roy came to Mary Potter Hospice, Marg was driving home one day and decided that now was the time. She rang Roy and asked him to marry her. "I flashed back yes as quick as I could," said Roy.
In three days the rings, the marriage certificate, the celebrant and the cake were organised. "Everyone was so helpful. They did the marriage certificate so quickly. I couldn't get a ring to fit Roy's finger so Polygon reforged it for us. Everything else just fell into place." Their dog Lukas was the ringbearer.
Roy said since he came to Mary Potter Hospice he has been feeling so good.
"When I told the hospital that I didn't want any more treatment, they said the Hospice would be the next step. They said that it's not like a hospital there, it's more like a hotel. Well, I can tell you it's more like a grand hotel," said Roy.
He loves the large bath, with the special hoist to get him in and out safely. "The music, the candles, the lighting, and the jets of hot water, it feels so good."
"It's made a very difficult time a lot easier and taken the fear out of it," said Marg. She has been staying with Roy in a bed right next to his while he's at the Hospice.
Roy will be well-known to many in Wellington. He loved horses and set up a horse trekking business in Ohariu Valley in the 1960s. In the early 1970s, along with four friends, he built and ran for 10 years the Ohariu Valley Country Club which opened its doors in 1973 to private members. He has written a book, 'A Long Ride from Johnsonville,' which tells his story and will be published soon.
"Being at Mary Potter has been beyond belief. It's Wellington's best kept secret. Everything is good about the place. The staff, the food, everything," said Roy.