Saphron's story
June 20th, 2022
When Saphron volunteers at the Inpatient Unit in Newtown, she enjoys the calm and peaceful environment.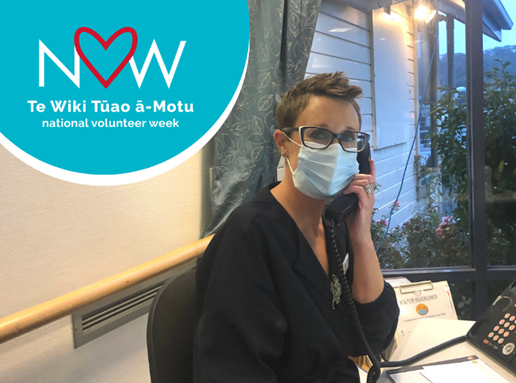 "The staff, including the support staff like the cleaners, do so much to keep the environment nice and calm, and to reduce external distractions as much as possible so that the focus is purely on caring."
Saphron's family had personal experience of Mary Potter Hospice's care when her mum was ill. "Mum chose to die at home, and the Hospice care we received at home was incredibly supportive, not just in teaching us how to care for mum, but also in helping us to care for ourselves as we supported her."
Saphron initially started volunteering for the Hospice a few years ago, helping with the meal service. "At the time I was pretty young and felt quite immersed in myself and in my own life. I wanted to do something to focus on others, and to support something really critical."
Recently, Saphron has started volunteering again, this time as a receptionist. "You don't get the direct interaction with patients and their families in this role like you do when you serve meals. But it's an important role because it takes some of the burden off the nurses in terms of answering the phones, welcoming people at reception and so on. It's nice to be there and to know you're helping to take some pressure off the team so they can really focus on looking after people."
As with any new job, when you begin volunteering it's important to learn the systems and procedures, says Saphron. "We receive phone calls about all sorts of things, and they can be quite personal, so you need to be able to put people in touch with someone who can help them as quickly as possible. You also need to make sure you're being appropriate and respectful at all times."
Saphron highly recommends volunteering for the Hospice. "Most people will have an interaction with hospice care at some point in their lives, whether it's a friend, family member, or themselves. It's great to understand the Hospice from the inside, and to see the amazing support they provide."

Thank you to our amazing volunteers who work with our patients, families and whānau, keep our shops operating and support our staff behind the scenes. Your time, skills, experience, fundraising and passion supports Mary Potter Hospice to offer our valuable services free of charge.
A huge thank you for your patience throughout the pandemic as we experienced different challenges. We hope you enjoy volunteering with us as much as we enjoy working with you.
If you are interested in volunteering for Mary Potter Hospice, we'd love to hear from you. View our current volunteer vacancies here, or email volunteer@marypotter.org.nz with your enquiry.