Shirley's story
June 20th, 2022
In her role as an online retail volunteer for Mary Potter Hospice, Shirley gets to research some fascinating things.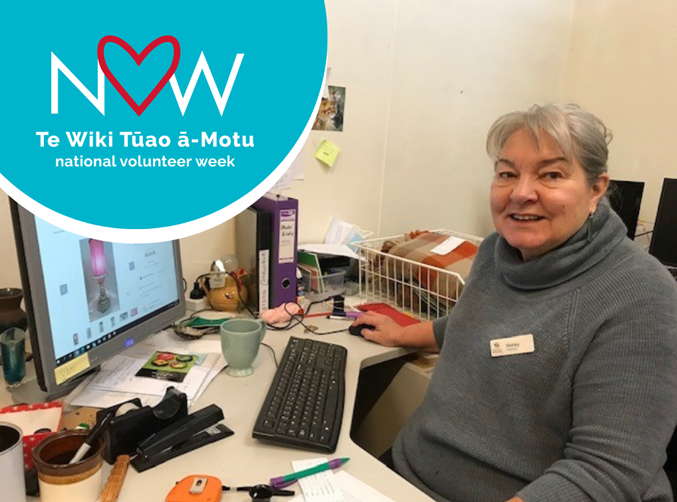 "I really like looking into unusual items and learning about them. We get donations from all over, and the Mary Potter Hospice online store lists the items that are of high value, or of interest to the wider community beyond Wellington, on Trade Me."
Shirley has been volunteering at the Mary Potter Hospice Shop in Thorndon since it opened eight years ago. "I'd just given up paid work, and I wanted to do something worthwhile. I was familiar with the work of the Hospice, and I'm interested in the second hand market, so it was an opportunity to do something I enjoyed and to do it for a good cause. It's a really good shop — there's plenty of foot traffic, interesting people and interesting donations."
Some of those donations make it to the Hospice's online store. When an item comes in that might be eligible, Shirley researches it to find out more. "Just today, we got a box of four tiny dictionaries in English, Italian, French and German. They were clearly unused, but they were old, and had a card with them congratulating a young man called Paul on achieving his majority and wishing him luck for his overseas travels. I went online to find out more about the dictionaries, who published them and so on, and found they dated back to the 1960s. This research gives you a better idea of what the pricing should be for an item. I particularly enjoy the research side of the role."
The online retail team is responsible for the whole online selling process from beginning to end — they clean up items, photograph them ("an art in itself"), list them, answer any questions on listings, and package and send the items once they're sold.
The online store is a great way of reaching potential buyers outside Wellington. "Recently, we received a book about New Plymouth Boys' High School. This wouldn't be of much interest to Wellingtonians, but we were able to sell it online. Our high value items like New Zealand art and studio pottery also sell for a better price online than they would in the shops. For example, I sold a Len Castle book for quite a lot of money. And just this week a three-volume Calvin & Hobbes Collection box set, which had been donated to our Thorndon store, sold online for $244."
There are currently three part-time volunteers on the online retail team. "We're limited in what we can do with only three people, so we're looking to grow. We could do with someone to specialise in the packaging side. It's quite an art, and we've had good feedback on it before, so we're keen to keep our good name."
Shirley really enjoys being part of the team. "We're a good team and we work well together. If we get a good sale we get excited on each other's behalf. And it's so good to know that we're helping Mary Potter Hospice provide its services."
Thank you to our amazing volunteers who work with our patients, families and whānau, keep our shops operating and support our staff behind the scenes. Your time, skills, experience, fundraising and passion supports Mary Potter Hospice to offer our valuable services free of charge.
A huge thank you for your patience throughout the pandemic as we experienced different challenges. We hope you enjoy volunteering with us as much as we enjoy working with you.
If you are interested in volunteering for Mary Potter Hospice, we'd love to hear from you. View our current volunteer vacancies here, or email volunteer@marypotter.org.nz with your enquiry.