Steph and Murray found they weren't alone
February 27th, 2020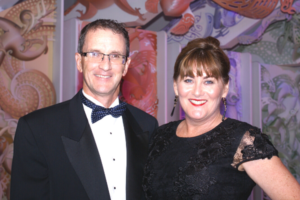 Employment lawyer Steph Dyhrberg had her first dealings with Mary Potter Hospice as a young lawyer. She was in her 20s and advising the Hospice on employment agreements. Her next contact with the Hospice was 20 years later, and this time she was seeking advice.
Her husband, Murray Bell, had been diagnosed with Non-Hodgkin lymphoma – a type of blood cancer – and he wasn't responding to treatment. He was 45 and their two daughters were teenagers at the time.
"They told us he wasn't going to get better. We were devastated, but also a bit lost and scared. So an oncology nurse suggested we have a meeting with someone at the Hospice to talk about what dying was like and how the Hospice could help."
Steph says they had no idea what to expect, what the stages of dying might be, how much pain Murray could expect and what could be done about that. But, after that meeting with a Hospice staff member, she says they didn't feel alone.
"It was just that feeling of love and warmth and knowing people were going to walk this journey with us." Steph says she had expected to be offered support and information. "I knew they were very caring and well regarded. I expected information, knowledge, data, facts. I expected professionalism and a level of kindness.
"I wasn't prepared for this amazing feeling of compassion – to have that love wrapped around you by total strangers," she says. "And they do it for free." Steph says the motto of the Hospice is 'With You' and that was exactly what she and Murray experienced.
That was seven years ago. Steph is quick to add that Murray survived – "he had this remarkable turnaround, and a stem cell transplant, and he got better", she says.
"The reason why I feel strongly about the Hospice is because it's an extraordinary place with amazing people who care for the dying. So it's a very easy place to love."
And Steph does love the place. She is a volunteer, who has done her share of standing on the street with a collection bucket. She is a member of the Mary Potter Board of Trustees – a voluntary position. She and Murray are donors to the Starlight Circle regular giving programme and are also members of the Camellia Heritage Club, a group of people who have left a bequest to the Hospice in their Wills.
She encourages people to do two things, if they can – to donate to the regular giving programme to help the Hospice meet the huge and rising costs of providing this first-class care every year, and to leave a gift in their Will. Steph says it's a way to say: "You can count on us now and you can count on us later".