Sue and John make the most of their 'second chance'
November 8th, 2019

By the end of the November Kāpiti Coasters Sue and John Scutter will be up to their elbows in strawberries.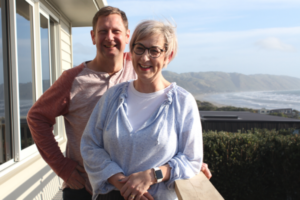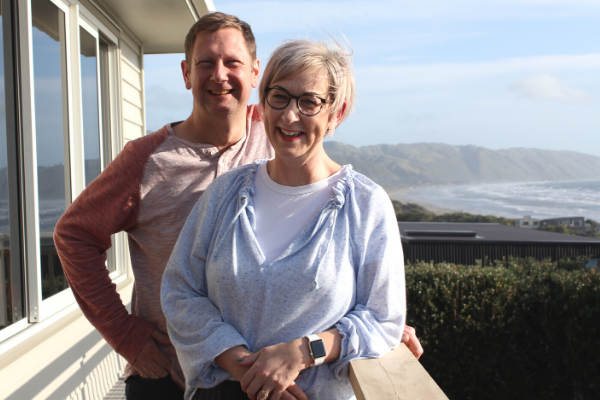 They spearhead fundraising for Mary Potter Hospice on the Kāpiti Coast through the annual Kāpiti Coast Strawberry Festival. Sue has been on the festival committee for three years and she is the Committee Chair for 2019. She says planning for the festival takes a full year, and they work hard to line up sponsors and stallholders.
"We want to have 100 stallholders – people who have really interesting products," Sue says. She says John is their star fundraiser. "John can sell strawberries and ice cream to anybody." "I am gofer," John says. "Whatever task needs to be done – collecting donations at the gate and helping stallholders set up their tents, the clean-up – and selling strawberries."
The pair love being part of the Kāpiti Coast community and live at Raumati Beach looking out at the ocean. Sue is a lawyer at Kāpiti Law and John is an accountant who runs the Fervor insolvency practice in Paraparaumu. He has lived in Raumati for 35 years, while Sue arrived on the Coast only after meeting John. "I have lived here about 14 years."
Sue was working as a florist in Bulls when she met John, moved south, decided on a major career change and began studying law. With only a year to go, she was diagnosed with cancer and the studies went on hold until she was well enough to continue.
While Sue has not had to use Hospice services, she knows through others what a great job Mary Potter does. She says she always had an awareness of what the Hospice did, but it was only through getting sick that she got involved.
"John and I are comfortable talking about death and illness. I have got that out of being unwell. We learned a lot about what to do for others," she says.
"We are both always keen to give back. We know how lucky we are to do that. I have had a second chance. We think it's important to give back because not everyone is as fortunate as we are," Sue says.
Sue and John decided to leave a bequest to Mary Potter Hospice because they say it's important for people to have reassurance that help is there if they need it. "It's a good backstop for people to know that a really good professional service is in place," Sue says. "It's the end of their life when they go to the Hospice. They should have the very best."