Making the most of their second chance
July 5th, 2022

Kāpiti Coasters Sue and John Scutter are passionate advocates for Mary Potter Hospice fundraising and have just completed their second year of co-ordinating the Annual Appeal for Kāpiti.

They also spearhead fundraising for Mary Potter Hospice on the Kāpiti Coast through the annual Kāpiti Coast Strawberry Festival. Sue was on the festival committee for three years and was previously the Committee Chair.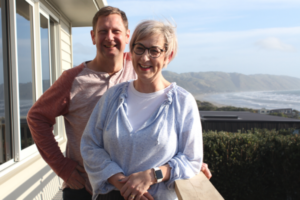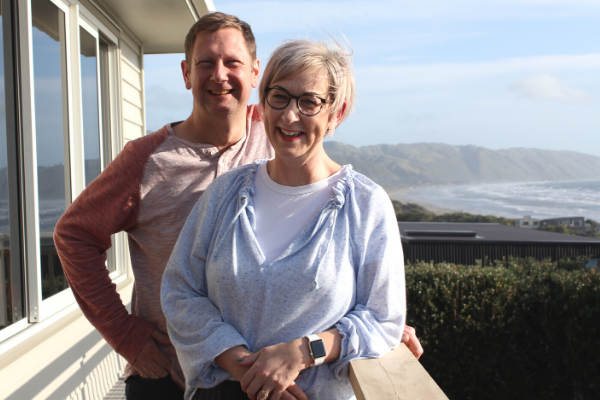 The pair love being part of the Kāpiti Coast community and live at Raumati South Beach looking out at the ocean. Sue is an Associate Lawyer at The Law Connection and John is a self-employed Chartered Accountant who runs the Fervor insolvency practice in Paraparaumu. John has lived in Raumati for 35 years, while Sue arrived on the Coast after meeting John and having recently celebrated their 15th wedding anniversary, they feel very fortunate they have made the Kāpiti Coast their home and are entrenched in the community. This includes having great support from Sue's employers which enables Sue to have leave from her firm to support Mary Potter Hospice.
Sue was working as a florist in Bulls when she met John, moved south, decided on a major career change and began studying law. With only a year to go, she was diagnosed with aggressive cancer and the studies went on hold until she was well enough to continue.
While Sue has not had to use Hospice services, she knows through others, including family, what a great job Mary Potter does. She says she always had an awareness of what the Hospice did, but it was only through becoming very unwell that she got involved.
"John and I are comfortable talking about death and illness. I have got that out of being unwell. We learned a lot about what to do for others," she says.
"We are both always keen to give back. We know how lucky we are to do that. I have had a second chance. We think it's important to give back because not everyone is as fortunate as we are," Sue says.
Sue and John decided to leave a bequest to Mary Potter Hospice because they say it's important for people to have reassurance that help is there if they need it. "It's a good backstop for people to know that a really good professional service is in place," Sue says. "It's the end of their life when they go to the Hospice. They should have the very best."