Meet Tracy, a Mary Potter Hospice hospitality volunteer
October 1st, 2019

Tracy has volunteered at Mary Potter Hospice as a hospitality volunteer for an incredible five years. Twelve years ago, Tracy's dad received palliative care at home. She was inspired to volunteer in appreciation of the compassionate care he received and to help others in a similar situation.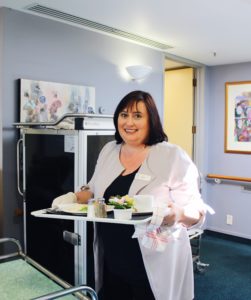 "I'm a real estate agent and a mum of three, so my days are often all go. I really enjoy taking an hour out of my day, twice a month, to volunteer at the Hospice. I find it to be a really grounding and reflective experience. It's awesome how I can use my 'me time' to help make a difference to others."
Hospitality volunteers like Tracy are an invaluable part of the team at the Inpatient Unit. They help by delivering meals and refreshments to patients at morning tea, lunch, afternoon tea, dinner or supper time seven days a week.
Tracy recalls a particular time when she once served a childhood friend, who was receiving care at the Inpatient Unit. It's a memory Tracy holds dearly. She treasures that she was able to reconnect with her friend and take care for her by way of making a cuppa or serving her a home-cooked meal.
"Since volunteering at Mary Potter Hospice, my perceptions of hospice have certainly changed. It's not all doom and gloom like many people assume – it's such a warm and friendly place. The staff are lovely and the patients are always grateful. It's a privilege to volunteer here and I always feel like I'm making a real difference."
Thanks Tracy, and to all of our 600+ amazing volunteers, we really couldn't make hospice happen without you!
We currently have multiple vacancies for delivering refreshments and meals to our Inpatient Unit patients. If you are interested in becoming a hospitality volunteer, we'd love to hear from you. View our hospitality volunteer vacancy listing for more details.