Trudie's go-to happy place
July 20th, 2022
It doesn't matter what size of animal it is, Trudie loves them all.
From her 1.3kg puppy Chihuahua called Milo, to the horse she used to own, being with animals is the happy place for Trudie.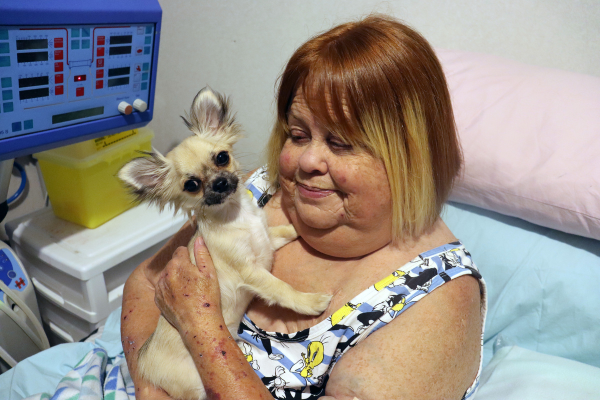 "I still go out and see the horses at Pauatahanui. My friend has four Arabs and a thoroughbred."
Trudie lives in Cannons Creek and has been a Mary Potter Hospice patient for about 11 years.
"My friends have pulled me through. I have two great friends I met at Dekka when I worked there for five years after I left school, 34 years ago. One of them lives down South and flew up with Milo when he just eight weeks old. The other has had ramps installed so I can visit her in my wheelchair."
Trudie's had more than her fair share of health issues starting when she was 13, including breast cancer, hip replacements, and vascular problems meaning both legs have been amputated. She gets around in an electric wheelchair.
"I've had 56 operation and I'm on dialysis for 6 hours every second day which is keeping me alive," she said cheerfully.
"I do the dialysis myself at home. I have the only dialysis machine like this. It's very old but I like it."
There's also been lots of good times, including working full-time for 20 years, trips to the Gold Coast, swimming with the dolphins at Water World/Sea World and the usual socializing with friends.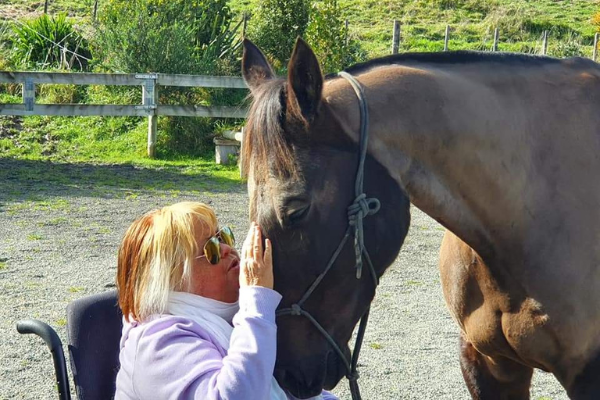 Most of the support Trudie receives from Mary Potter Hospice is at her home with Hospice nurses, Māori liaison, doctor and social workers helping her. She has also had some stays in the Inpatient Unit in Newtown.
"The nurses are amazing. And the cleaners. When I went to the Hospice for respite, if they lost the cleaners they'd find them in my room on their break. The care that you get from Mary Potter Hospice is great. The nurses go above and beyond what's required."
Trudie is Ngāti Raukawa and she regrets that she doesn't know more about her whakapapa.
"Our marae is in Bulls. My dad was a red-haired Māori, so I've got hair this colour. I went to the marae for tangis but if you ask me what they say I can't tell you. I wish I learnt Māori.
Trudie's grateful to the Hospice for its support over the years. She gives back through helping with street appeals, bringing treats for the nurses and donating when she can.
"I wish I could give them more because they do such a fabulous job."
Milo has quickly become a constant companion for Trudie. "Everyone said 'don't get a Chihuahua….they're snappy and they bark', but Milo loves his cuddles and he's great company. I love going to see the horses, but Milo keeps me content too," said Trudie.