Hospice Shops
Turning second-hand goods into first class care
Our charity stores are treasure troves offering a huge variety of quality pre-loved goods. Mary Potter Hospice stores are special because of their big range, good quality and great prices. We offer a wide variety of household goods, including clothing, books, homewares, collectibles, electrical goods and furniture.
Our shops
We have eight secondhand opshops located in Miramar, Cuba Street, Karori, Thorndon, Newlands, Tawa, Porirua and Paraparaumu.
View our shop addresses and opening hours here.
Our second-hand stores sell quality goods donated by our local community and are staffed by dedicated volunteers. These funds are used to directly care for Wellingtonians with terminal illnesses and their families.
Donating goods
We are very grateful for your donations so please think of us whenever you are considering a cleanup or clear out. We also love to receive large household lots, including furniture and whiteware in good working order and we'll collect them from you for free.
We would love your quality goods and accept the following:
Estate lots
Clean clothing
Bric-a-brac
Furniture
Jewellery
Art
Some electrical goods. All of our electrical goods are tested by a qualified electrician before going on sale. Please talk with us about the sorts of goods we know we can sell.
Unfortunately we are unable to accept:
Wire-wove beds and kapok mattresses
Stained/torn mattresses and bases
Second-hand paint or chemicals
Rusting items
Gas bottles
Chipped bric-a-brac
Toys
Underwear
Whiteware
Arrange a free collection online now, or you can contact our Retail Support Centre on 04 237 2300 or email retail@marypotter.org.nz
We are happy to collect goods from within the area we service – Seatoun to Waikanae. If you are outside of that area please contact Te Omanga Hospice or Arohanui Hospice.
Sky decoder returns
Sky Decoder can be returned to either our Porirua Shop at 21 Kenepuru Drive or to our Thorndon shop at 95 Thorndon Quay.
Trade Me online shop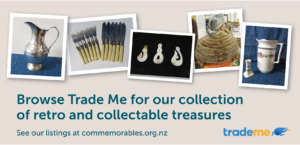 You can support Mary Potter Hospice by purchasing pre-loved treasures and collectables online via our Trade Me shop.
Volunteering for our shops
Our 300 retail volunteers work in our stores sorting, displaying and selling items as well as on
Trade Me which provides a very important source of revenue for the Hospice. They also work as truck drivers (no HT licence required) and truck hands for our logistics operation.
We are always looking for volunteers and welcome your enquiry.
Read more about this on our volunteering page.