Mary Potter Hospice's education programme aims to give other health professionals in the community the skills they need to provide the best palliative care.
Our workshops are available for all health workers who provide palliative and end-of-life services. Education topics range from pain management to strategies for coping with grief and loss. The learning activities and methods we use provide an opportunity for experiential and collaborative learning.
We maintain strong links with the tertiary educational institutions in our region, including the University of Otago Wellington, Victoria University of Wellington, Massey University Wellington and Whitireia Polytechnic. Some of our staff are visiting lecturers at these institutions.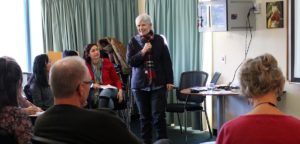 As a specialist centre, we can provide targeted onsite training for a range of health professionals and allied health workers. We can work with you to design training for the specific needs of your organisation.
On reflecting on the course, I realised everyone who had shared their story had deep love and functioning relationship with the person they were caring for or had lost. Particularly with dementia this is not often what I am seeing in my work.  Participant:  Masterclass on Loss & Grief
Palliative Care Link Nurse programme – applications closed for 2017
New innovative funding provides an opportunity for Registered Nurses with an interest in Palliative Care, working in Primary Care and Aged and Residential Care (ARC), to participate in the new Link Nurse programme with Mary Potter Hospice.
The Link Nurse programme is a five day placement in a hospice palliative care setting where nurses work alongside experienced practitioners and are immersed in the role of the palliative care clinician.
If you require more information, please contact Linda Stephenson, Clinical Nurse Specialist, by email linda.stephenson@marypotter.org.nz or call +64 4 381 0177.
View upcoming courses in our education programme.
For more information, please contact Rahera at education@marypotter.org.nz
Click here to subscribe to our health professional Tuia, Education Today e-newsletter and education opportunities.