Education
**Please note** Please contact education@marypotter.org.nz if you are experiencing any issues with your registration. 
Mary Potter Hospice's Palliative Care Education Programme aims to give health professionals in the community the skills and knowledge they need to provide the best palliative care.
Our workshops are available for all health workers who provide palliative and end-of-life services. We aim to provide and promote evidence based knowledge, skills and attitude to meet the needs of their patients, clients, families or whānau.
Our education topics range from pain management to strategies for coping with grief and loss. The learning activities and methods we use provide an opportunity for experiential and collaborative learning. Education and training is provided in a supportive environment that meets the needs of health and community workers working across the range of sectors and services providing palliative and end-of-life care.
We maintain strong links with the tertiary educational institutions in our region, including the University of Otago Wellington, Victoria University of Wellington, Massey University Wellington and Whitireia. Some of our staff are visiting lecturers at these institutions.
View our available education courses here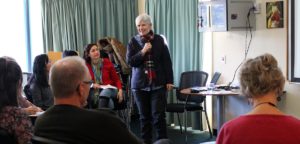 As a specialist centre, we can provide targeted onsite training for a range of health professionals and allied health workers. We can work with you to design training for the specific needs of your organisation.
You can book courses online below, read more about the courses in the 2019 Education Guide, or for further information or assistance please email contact our Education Administrator on 04 381 0152.
Click here to subscribe to Tuia, Education Today, our email newsletter for health professionals, for updates and education opportunities.
On reflecting on the course, I realised everyone who had shared their story had deep love and functioning relationship with the person they were caring for or had lost. Particularly with dementia this is not often what I am seeing in my work. – Participant of our Masterclass on Loss and Grief
---
The Art of Palliative Medicine – Student reflections in art
University of Otago Wellington and Mary Potter Hospice offer a joint palliative medicine teaching programme to medical students. This involves teaching by Hospice staff, Hospice clinical placements and arranging for student-pairs to visit Hospice patients and whānau at home, and then writing a reflection with some students choosing to develop creative works to accompany the reflection.
The University of Otago Wellington has launched a website to display some of the art and reflections developed by students, The Art of Palliative Medicine. New artworks will be added as more students complete the programme.
Palliative Care Link Nurse Programme
The Palliative Care Link Nurse (PCLN) Programme is an opportunity for Registered Nurses with an interest in Palliative Care, working in Primary Care and Aged and Residential Care, to participate in the new Link Nurse programme. The PCLN programme is a five-day placement in a hospice palliative care setting where nurses work alongside experienced practitioners and are immersed in the role of the palliative care clinician. Nurses will be encouraged to develop innovative ideas that are relevant to their own practice.
Programme sessions (note changes from advertised):
25 Monday – 29 Friday November 2019

| Applications opening Monday 16 September 2019
| Closing date Monday 14 October 2019
More information can be found here and the application form can be found here.
For further information or assistance please contact our Education Administrator on 04 381 0152 or education@marypotter.org.nz.
Education Courses for Health Partners and Community Workers