Getting the right fit
September 22nd, 2023

Finding roles that suit their skills and experience is the key to Murray and Barb's enthusiastic volunteering at the Hospice's Porirua community base.

Murray's career as an engineer provided the ideal background for his position as an equipment volunteer.

"I was an engineer and thought I might know something about that. Shortly after the building was open we walked into a room full of stuff – commodes, wheelchairs, walkers, walking sticks. It was all over the place."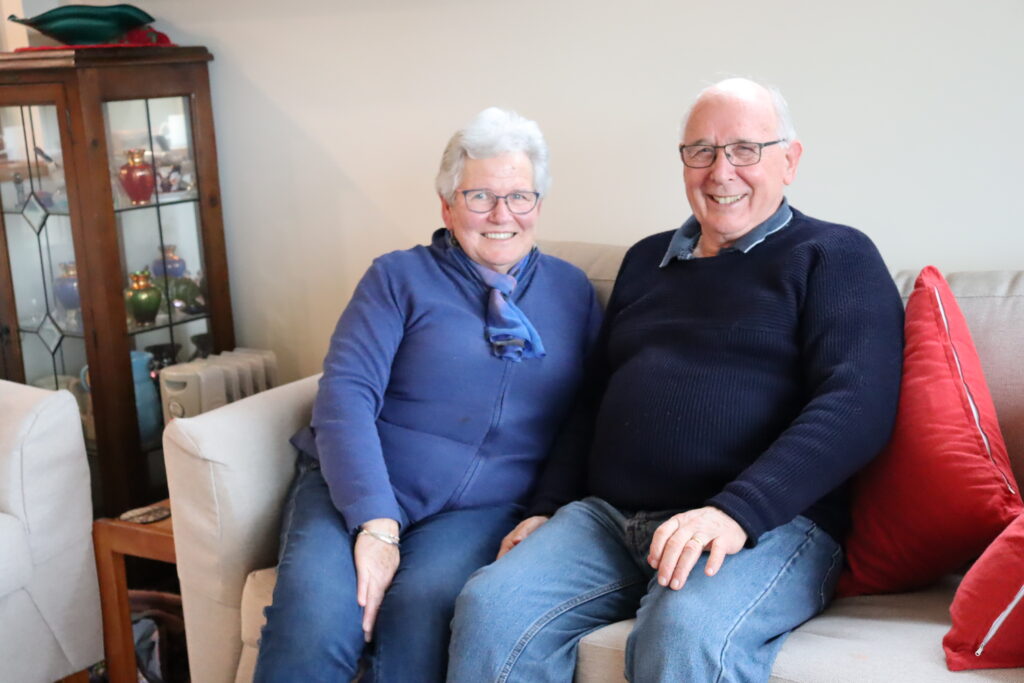 Murray worked on dams for Ministry of Works power stations for about 50 years. Initially he worked in New Zealand, but the last 20 years he worked around the world, particularly Australia and Canada.
Murray shares the role with another volunteer, John. Murray mostly does the receiving, checking and sterilising, and some repairs.
"Neither of us like being in a shambles so we spent a month getting ourselves organised. We put shelving in, and got things straight."
Once order was restored, Murray decided he could also be a driver, taking people to and from the weekly day programme.
"Probably that's the part I enjoy the most. You get to know your people. There's plenty to talk about."
Late last year Barb became interested in being a hospice volunteer biographer. "I went to a meeting and was a bit hooked. It's a wonderful service."
As well as raising four children, Barb taught at Tawa College for 16 years as an English teacher and in learner support. She has also completed a Diploma in Counselling.
Barb has done the biography training, and completed one biography so far.
"It's not an editorial role because the emphasis is on the person's voice to be heard. Not prettying it up for a publication. It's a very personal end result for the person who is terminally ill.
"I think you have to be a good listener, and you have to be interested in people and their uniqueness. You have to be able to find a balance between being inquisitive and exploring their story and help them explain or unfold a bit further a comment they might have made.
Barb says the role can be time consuming and detailed, especially when transcribing the interviews.
"We have a mentor, who will give us guidance, make suggestions, and look over what we've done. The people doing it are from such a variety of backgrounds, it's amazing. We have a monthly debrief session. It's a learning experience for me. People trust you with pretty important things in their lives."
Barb says that the biographers are in a unique situation where people might tell them things that even their family don't know.
"It's quite intimate really. It's a special gift that you give to the family from the person who's unwell."
"You want the family to read the biography and say 'I can just hear them say that'. It's their voice."
Barb and Murray met at university and have been married for 54 years. They've lived in north Wellington most of their married lives – in Titahi Bay, Tawa and Pukerua Bay.
Are you interested in becoming a volunteer?
Visit our volunteer page to learn more about the importance of our volunteers to Mary Potter Hospice, and check out our current volunteer vacancies here.