Nurse Misty's story
May 3rd, 2023

When Misty and her family were making the move to Aotearoa New Zealand from Arkansas in the United States earlier this year, Misty had only one requirement for her future nursing role – it had to be for Hospice.

Misty has been a nurse for 24 years, and has spent 17 of those years working in palliative care. She's held a variety of positions working in community care, Inpatient Units, management, education and infection prevention.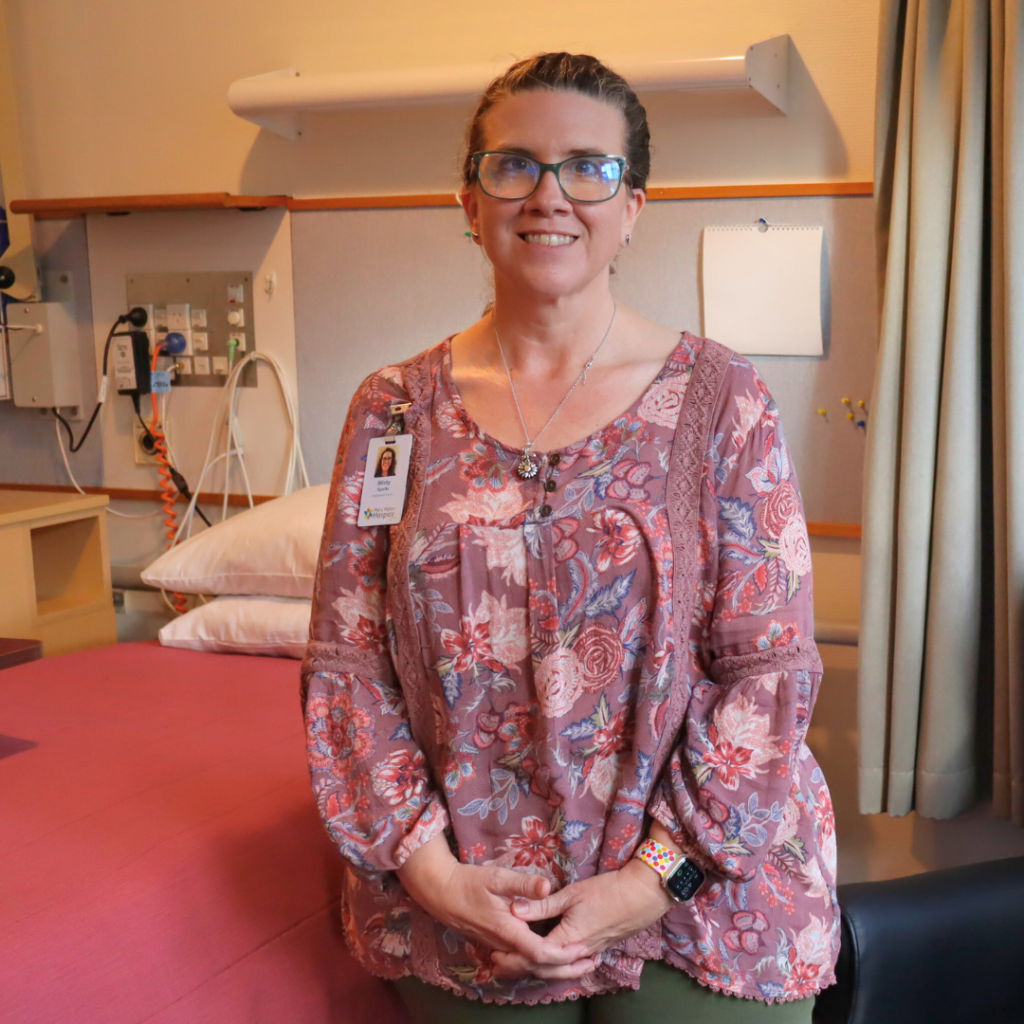 Since February, Misty has been a valued part of Mary Potter Hospice's Inpatient Unit team in Newtown. Misty's day begins with a comprehensive handover after which she checks in with all her patients. Her role involves administering medication, providing personal cares, educating patients and whānau, and working with the wider Hospice team of doctors, therapists and support staff to ensure patients are comfortable.

"At Hospice, our goal is not to hasten or prolong the lives of our patients. We focus on quality time, rather than the quantity of time," explains Misty. "I help patients tick things off their bucket lists, ensure their symptoms are managed so they can live well until the very end and make moments that matter.''

A part of her job that Misty finds particularly rewarding is educating patients and families about what to expect at the end of life.

"There are so many questions, fears or worries that can crop up," says Misty. "I let patients and families know about the natural and normal things that they can expect, so that they can feel more relaxed, empowered and can focus on making special memories. I remind loved ones that it's okay to hold dad's hand, hug mum, or hop into bed for a cuddle."

Aside from Wellington's wind and learning to drive on the opposite side of our narrow roads, working within a new health system has also been a big change for Misty.

Misty views caring for Māori, Pacific people and patients from diverse backgrounds as an immense privilege. Providing culturally safe patient-centred care is very important to her, having cared for many Marshallese people in her hometown in Northwest Arkansas, which is home to the second largest population of Marshallese people in the United States. Misty feels well supported by her Hospice colleagues to continue to build on her cultural competencies, and she describes the training that Mary Potter Hospice has provided as excellent.

Misty says the holistic nature of Hospice care is another rewarding part of working for Mary Potter. "We don't solely focus on the physical needs of our patients – we also ensure that their emotional, spiritual and social needs are met," she explains.

"I feel like I can do so much for more patients and their families by working at Hospice. With a lower nurse to patient ratio, you have the time to really care for the whole person. We have a great team, and we all work together to provide the best possible individualised care for our patients. Working for Hospice is so rewarding."

Join the Mary Potter team at an upcoming Recruitment Open Day to discover a career in healthcare where you'll have time to care, time to learn new skills and time to feel valued.

Mary Potter Hospice Recruitment Open Days
Thursday 4 May, 1.30-3.30pm
Sunday 7 May, 1.30-3.30pm
Mary Potter Hospice, 48 Mein Street, Newtown, Wellington
These sessions are free to attend with refreshments provided – all are welcome!